May 17, 2020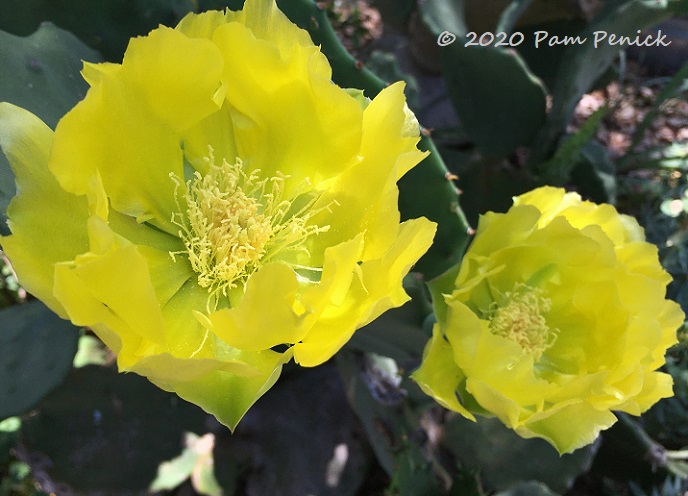 Everyone needs at least one beautiful beast of a plant in their garden, a tough old boot intent on annexing adjacent real estate, but not so quickly that you can can't beat it back. Texas tough. Meet 'Old Mexico' prickly pear (
Opuntia gomei
), also called wavy-leaf prickly pear.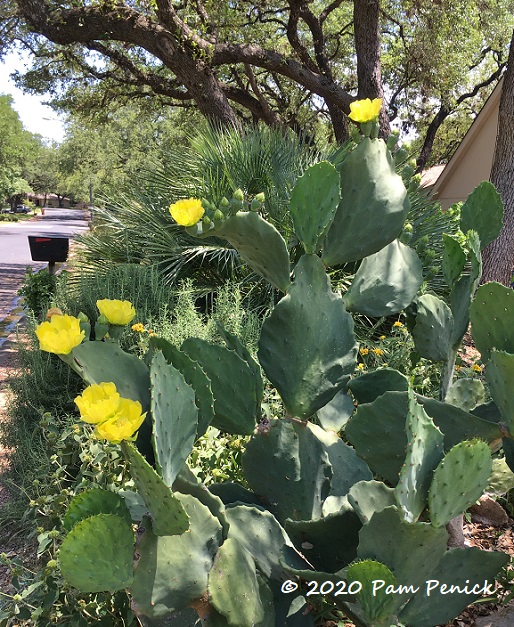 Its lemon-yellow, ruffled flowers glow like cups of pure sunshine in late spring. Each flower lasts just one day, but mature plants produce dozens, extending the floral show for a couple of weeks.
More flower buds ready to pop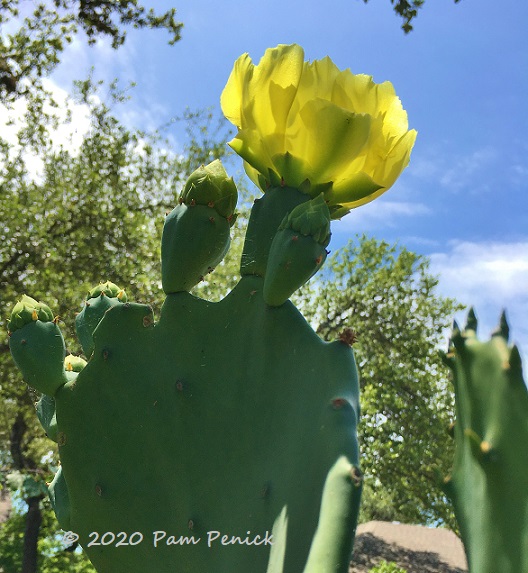 Its large leaf pads have a wavy shape with scalloped edges. While technically spineless, it does have tiny, nearly invisible glochids that embed themselves in skin and cause pain if you handle a pad with bare fingers. Just don't. I speak from experience.
Don't use cloth or leather gloves to handle it either unless you want glochids permanently embedded in them. Instead use BBQ tongs to handle fallen or pruned pads. Sometimes I'll just use a shovel blade or the sole of my shoe to knock off a pad at the joint and then scoop it up with a shovel.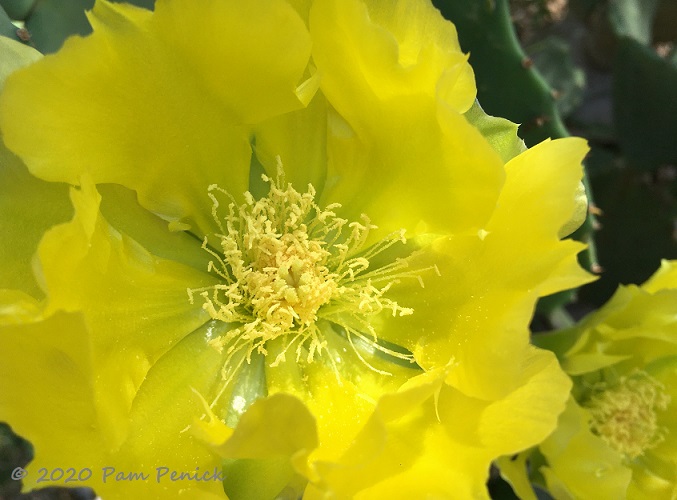 Why bother knocking or pruning off pads? I mentioned that 'Old Mexico' is a monster, didn't I? It grows to about 4 feet tall and wide, and then it has a clever trick to expand its territory. A heavy "branch" of several pads will fall over, and where each pad touches the ground it takes root. In this way, 'Old Mexico' prickly pear can creep along in a garden in slow motion, and eventually you've got more prickly pear than you know what to do with.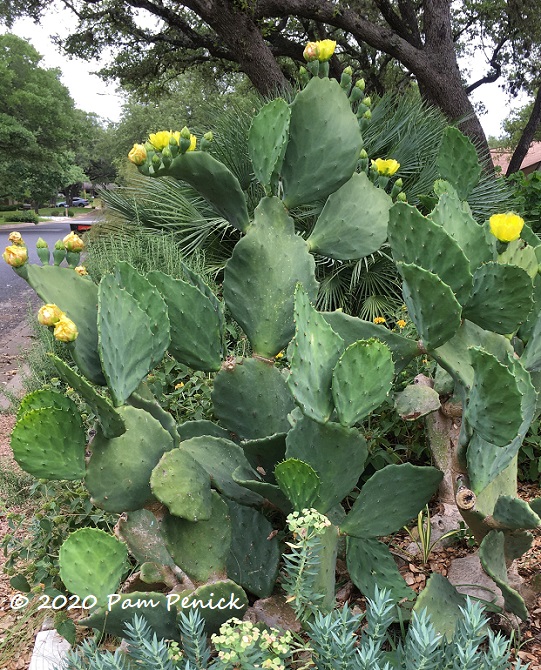 Still, it's pretty! And evergreen. And cool looking. And super drought tolerant and heat tolerant. Plus deer don't eat it, nor have they ever antlered it in my garden (no guarantees, of course). Keep it where you want it, and shape it to your taste, by pruning off pads as needed. You can easily use the pruned pads to root new plants for yourself or give them away to daring friends. Just toss them onto bare soil and stand back.
Mine grows in dappled shade all day until late afternoon, but full sun is ideal. 'Old Mexico' prickly pear is native to far south Texas, so it can pout and droop sadly when Austin gets a hard freeze, especially one that lasts for a day or more. (It might suffer more in colder parts of town, in low spots or outside the city.) But it perks up with warmer weather and always looks good again by spring.
Note: M
y
Plant This
posts are written primarily for gardeners in Central Texas. The plants I recommend are ones I've grown myself and have direct experience with. Check online forums for your region or local independent nurseries to see if a particular plant might work in your area.

I welcome your comments; please scroll to the end of this post to leave one. If you're reading this in a subscription email, click here to visit Digging and find the comment box at the end of each post.
_______________________
Digging Deeper: News and Upcoming Events
Join the mailing list for Garden Spark!
Hungry to learn about garden design from the experts? I'm hosting a series of talks by inspiring garden designers, landscape architects, and authors a few times a year. Held in Austin, the talks are limited-attendance events that sell out quickly, so join the Garden Spark email list to be notified in advance. Simply
click this link and ask to be added
.
All material © 2020 by Pam Penick for Digging. Unauthorized reproduction prohibited.
The post
Plant This: 'Old Mexico' prickly pear
appeared first on
Digging
.

Continue reading...