May 21, 2020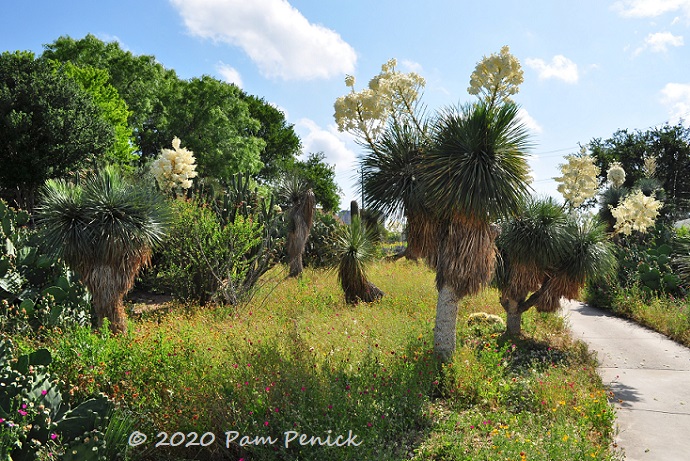 A wildflower meadow studded with
Yucca rostrata
in bloom — yes, please! Let's continue with last week's visit to
San Antonio Botanic Garden
and this path into the cactus and succulent garden.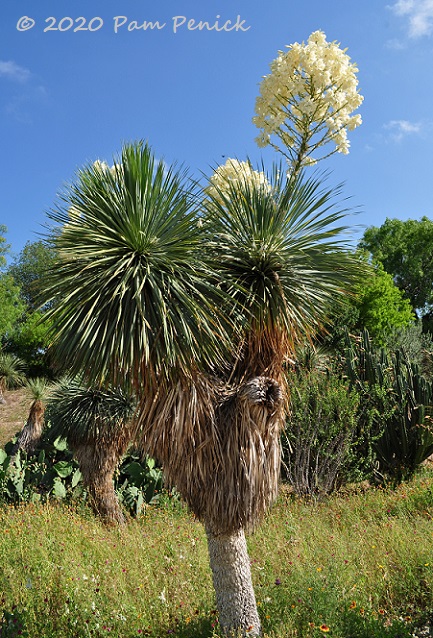 More flowering yuccas!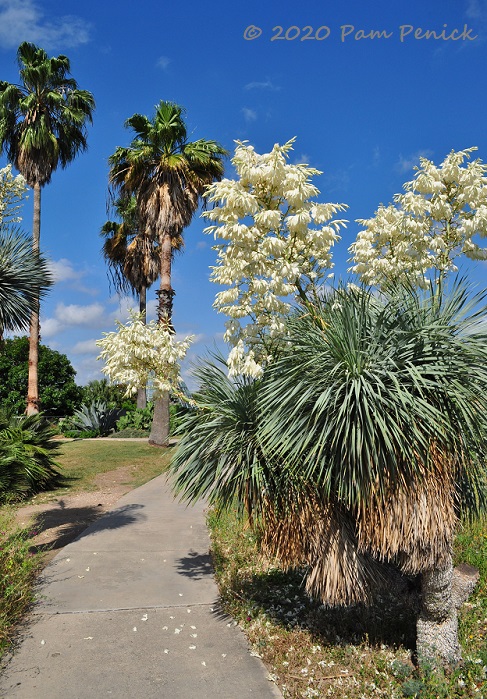 And more, with shiny-leaved palm trees and a blue, blue sky.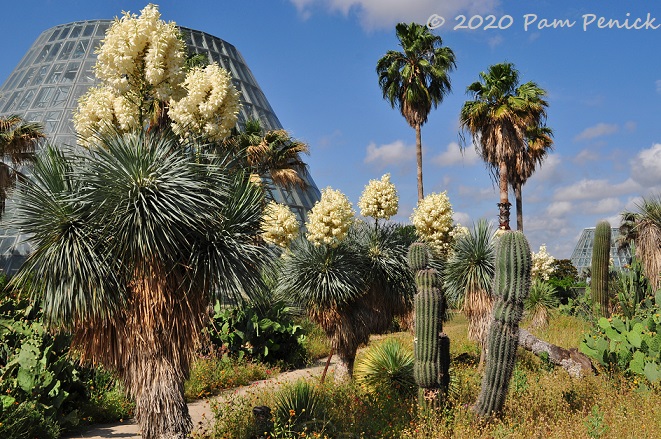 And a space-age-looking glasshouse and columnar cacti.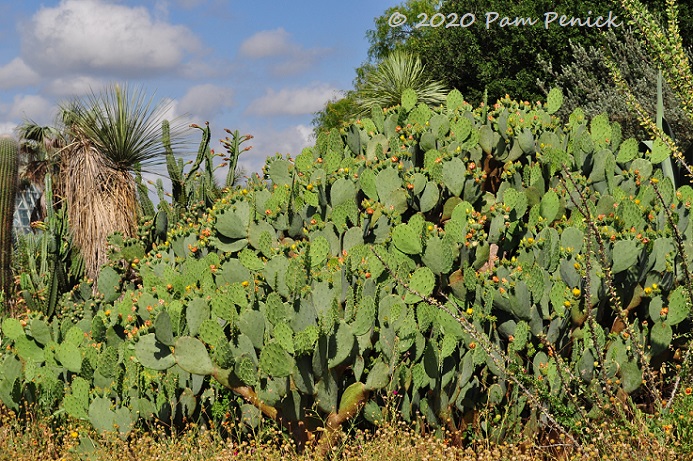 Check out this inclined ramp of prickly pear, beringed with orange flower buds — love!
I don't know what kind of cactus this is, but I like its shadowy, segmented form against the bright background of glasshouse, palms, and yuccas.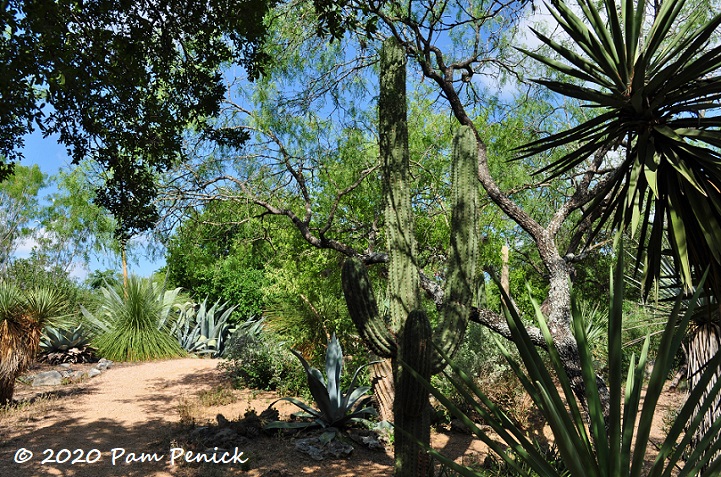 Even cacti appreciate filtered shade in a Texas summer.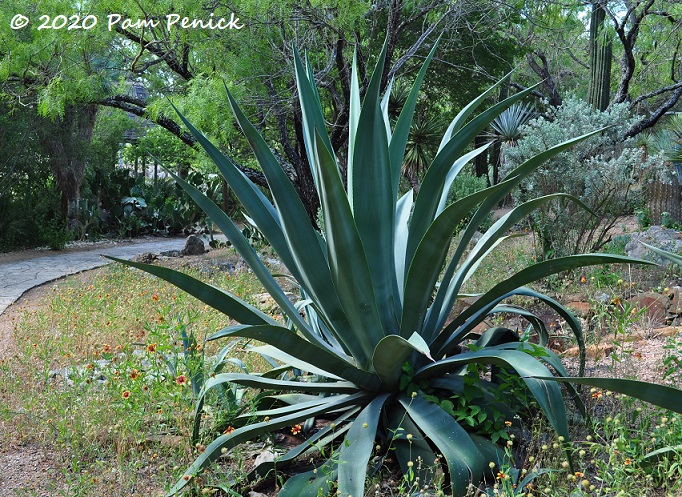 Agave in a fading verge of wildflowers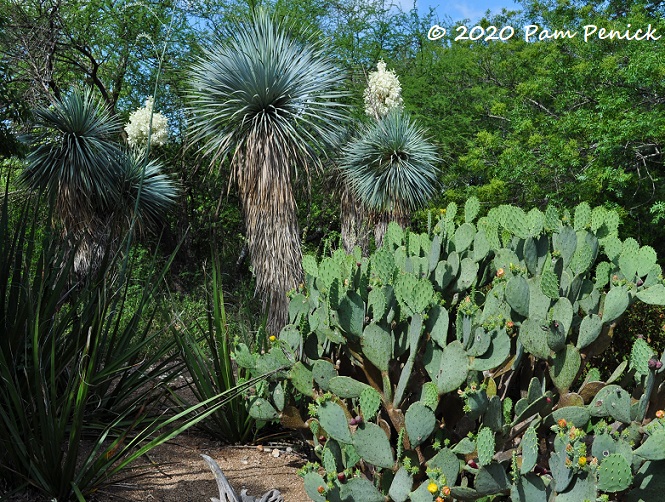 Yucca rostrata in bloom with prickly pear and giant hesperaloe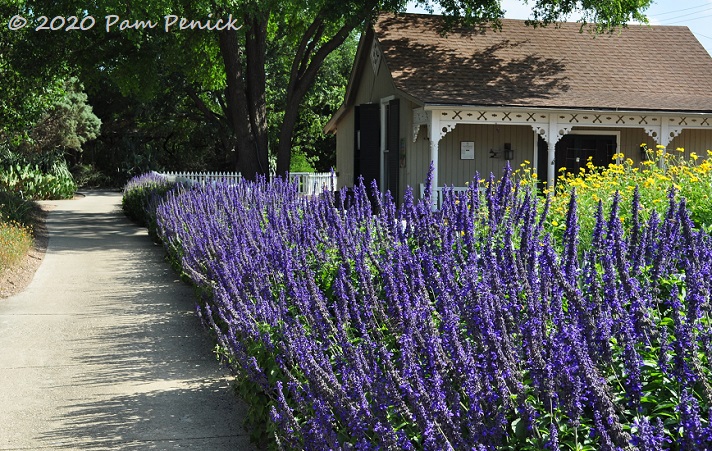 Bees were thrumming in this violet salvia border.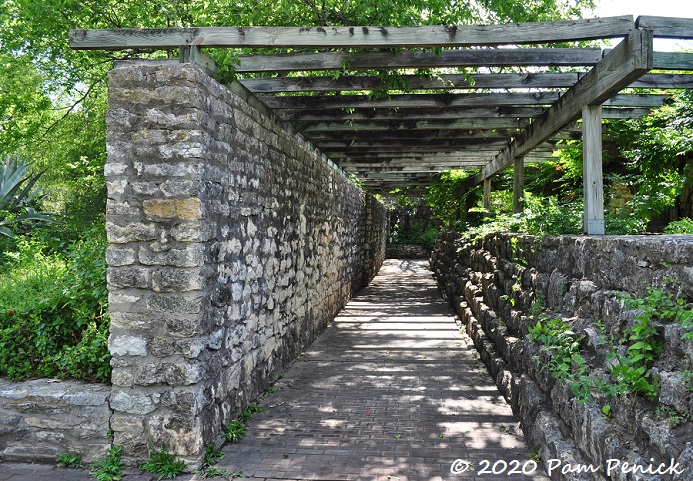 An arbor-shaded path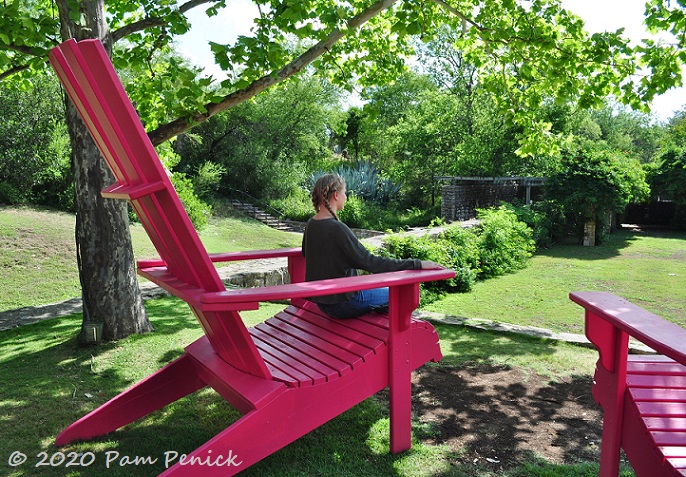 Overlooking a grassy amphitheater, we discovered gigantic, cherry-red Adirondacks. Naturally we had to try them out.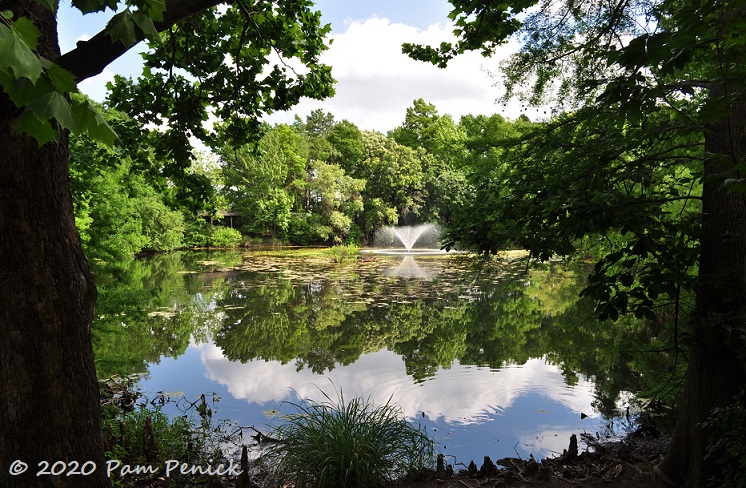 Along the Texas Native Trail at the rear of the garden, we took the middle path around a large pond ringed by bald cypresses and sycamores.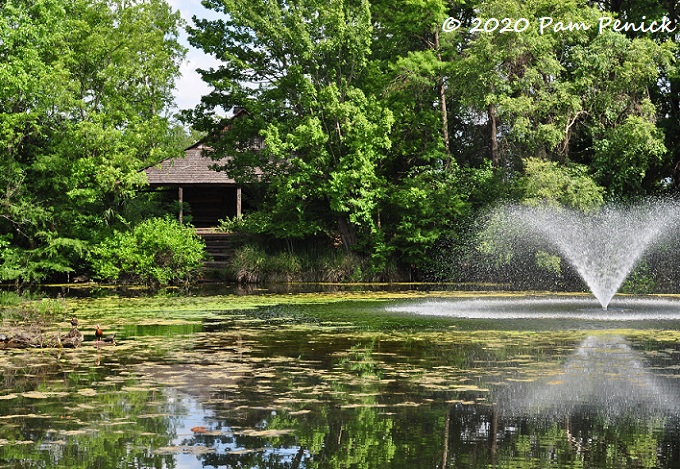 A spraying fountain disturbed the illusion of naturalness.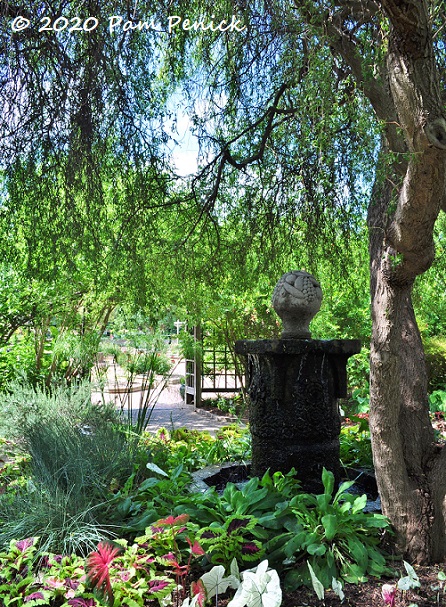 Heading back to the main gardens, we stopped to enjoy the dappled shade of a willow overhanging a columnar fountain. I ignored the rose
garden
ghetto just beyond, having never learned to appreciate a traditional rose display. My teenage companion, however, was scandalized by my rose dis.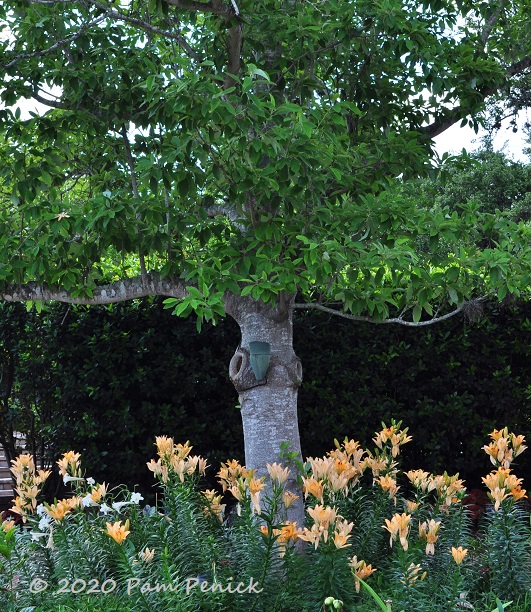 Apricot lilies matted by a dark-green hedge merit a photo, though!

Lovely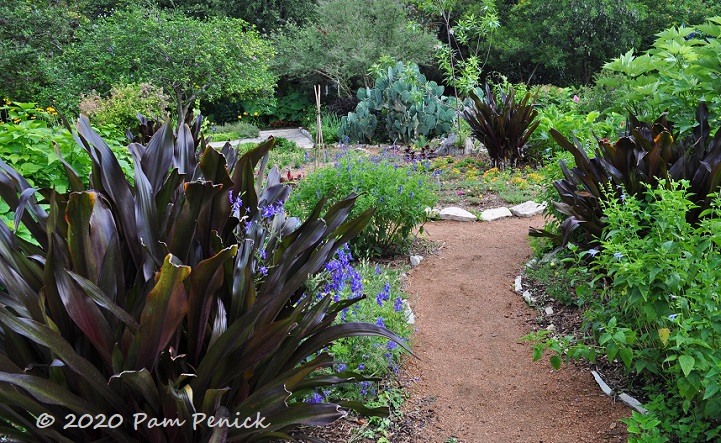 In the Old-Fashioned Garden, much of it is just getting going, replanted perhaps for summer. Are the dark-leaved plants giant crinum lilies?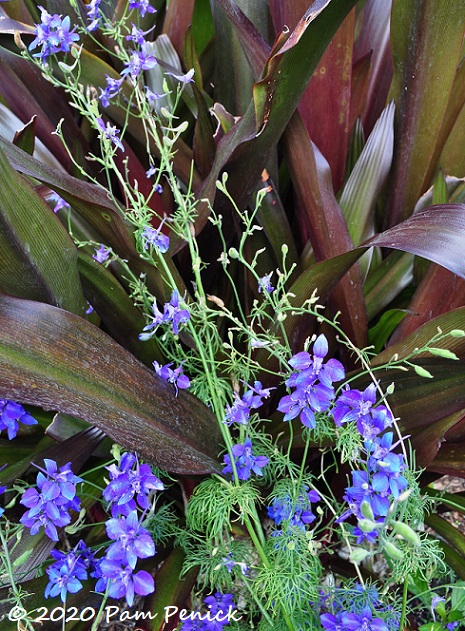 Purple larkspur leans into the broad, glossy leaves of the mystery plant/crinum.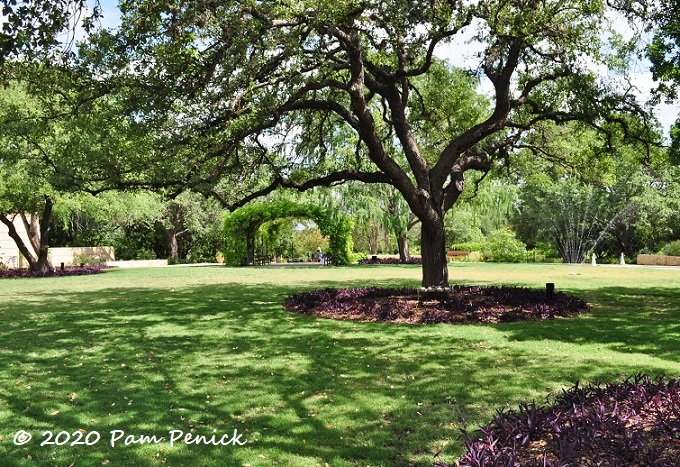 This great lawn is new since I was last here, offering a green event space where once was a Spanish-style channel fountain. Purple heart encircles the shade trees.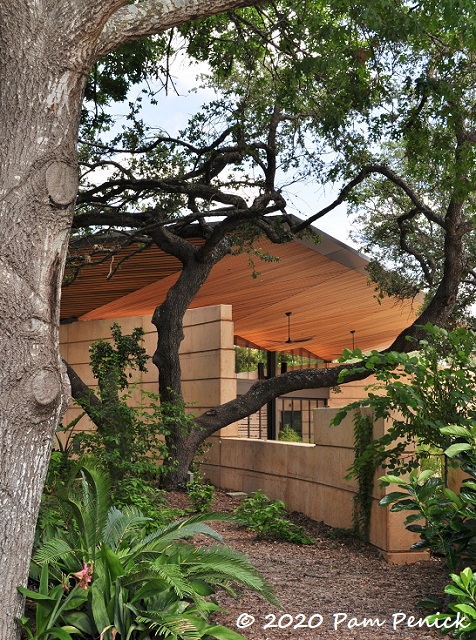 A light-filled building, the Betty Kelso event center, is also new.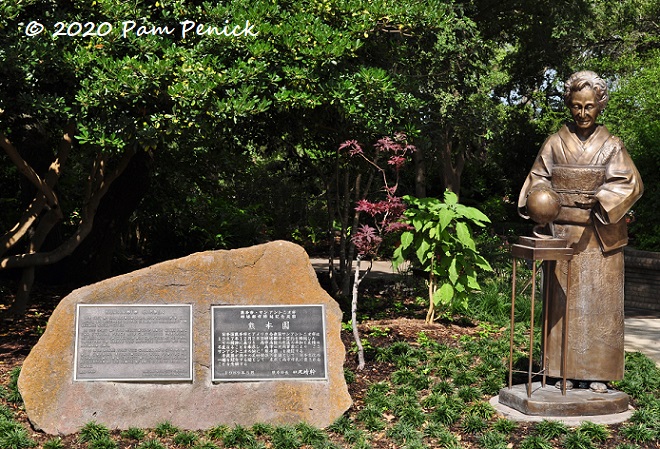 Nearby, the entrance to the Japanese garden is marked by a statue of a kimono-wearing woman.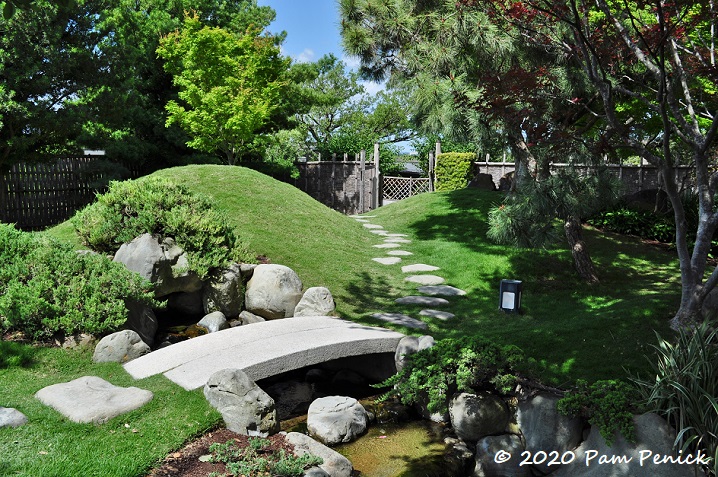 "A gift to San Antonio in 1989 by its sister city, Kumamoto, the Kumamoto En (En means garden in Japanese) is an authentic Japanese Garden designed by landscape artists and craftsmen from Japan. In exchange, San Antonio gave Kumamoto a log cabin from the Hill Country town of Fredericksburg."

San Antonio Botanical Garden Featured Attractions
I love the notion that there's a Texas log cabin somewhere in Kumamoto, Japan.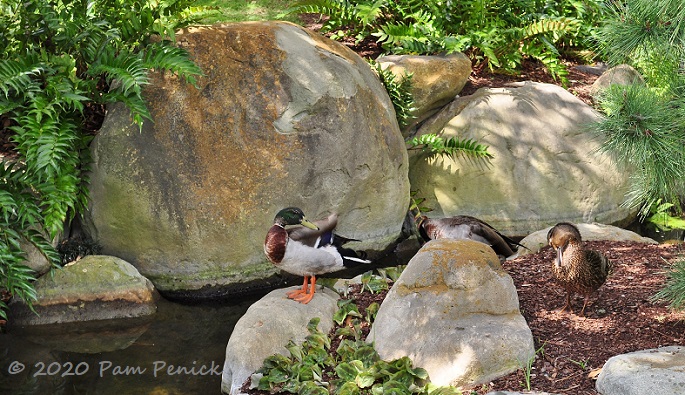 The garden's pond "symbolizes the Pacific Ocean that separates the East and West," according to the website. Ducks groom themselves amid round boulders anchoring the pond's edge.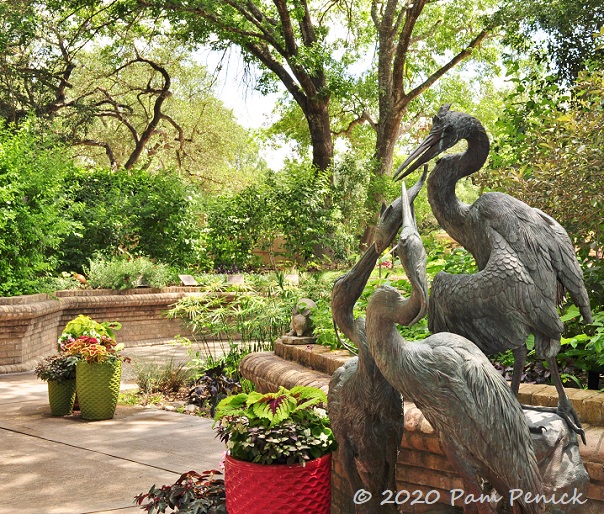 The Sensory Garden is elevated in raised beds, perhaps for ease of smelling and touching plants. This garden has always seemed a little out of place to me.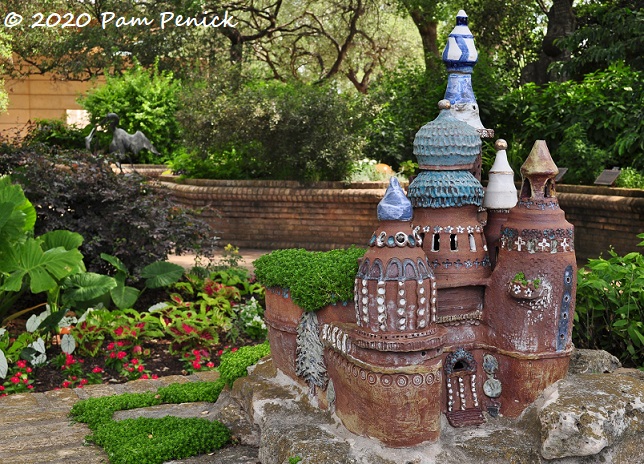 A quirky, clay-sculpture castle adorns one end of the garden.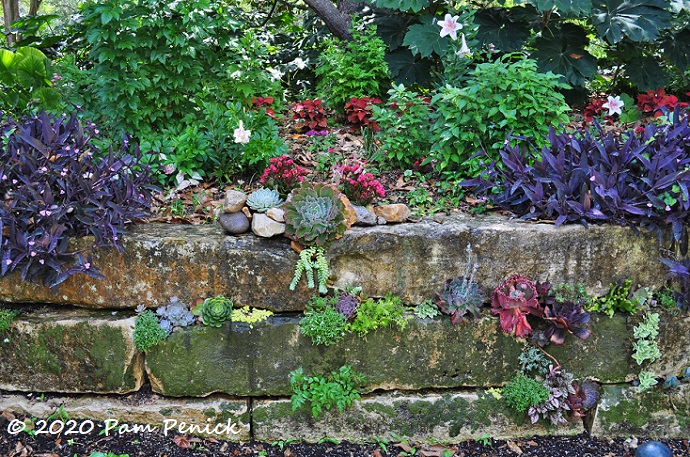 Moving on, a stone retaining wall has been transformed into a vertical display of succulents.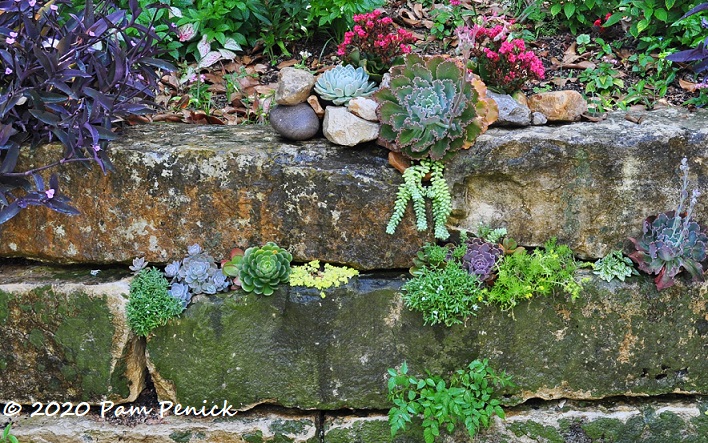 Tucked into crevices, succulents brighten the wall with ruffled leaves and pastel colors.
SABG is always a fun destination for day-tripping from Austin. I'm glad to have had the opportunity to do so again thanks to their new reservation system and restricted entry, open to members and non-members alike.
For a look back at
Part 1 of my visit to San Antonio Botanical Garden
, click here.
I welcome your comments; please scroll to the end of this post to leave one. If you're reading this in a subscription email, click here to visit Digging and find the comment box at the end of each post.
_______________________
Digging Deeper: News and Upcoming Events
Donate to the Tom Spencer Million Trees for Austin Fund
, established by TreeFolks in March 2020 to honor
Tom Spencer
, a tireless environmental advocate and longtime host of
Central Texas Gardener
. Tom's bold vision of planting another million trees in the Austin community inspired TreeFolks to pursue this goal, and they invite others to join the campaign. In Tom's own words, "Plant trees, plant hope." For information about making an annual gift, stock donation, or charter contribution, please call Andrew W. Smiley, TreeFolks Executive Director at 512-413-7774, or
visit their website for additional information
.
Join the mailing list for Garden Spark!
Hungry to learn about garden design from the experts? I'm hosting a series of talks by inspiring garden designers, landscape architects, and authors a few times a year. Held in Austin, the talks are limited-attendance events that sell out quickly, so join the Garden Spark email list to be notified in advance. Simply
click this link and ask to be added
.
All material © 2020 by Pam Penick for Digging. Unauthorized reproduction prohibited.
The post
Reopening at San Antonio Botanical Garden, part 2
appeared first on
Digging
.

Continue reading...