the garden gate flower company
Guest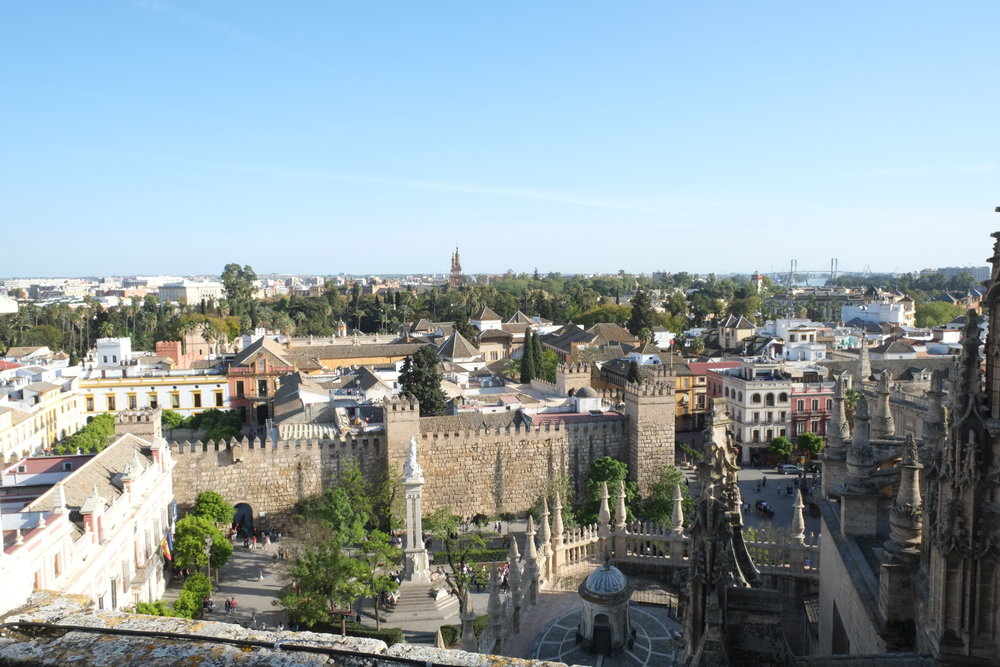 Seville from the roof of the Cathedral
City Break of Dreams
Seville has been on my list for a while now and with the fairly recent addition of the Bristol to Seville Easy Jet route, coupled with the big birthday, there really were so many reasons to make this a 'must go' city break.
I've decided to blog about the trip, not because I'm a travel expert all of a sudden but because, for one, trips like these bring me so much inspiration for what I do as a florist / gardener and I thought you might like to see a little of this. I also felt that some of the hints and tips of organising a trip like this is always welcomed if you are planning to visit this beautiful city soon.
Seville really didn't disappoint - it was, in fact, absolutely fantastic! We were lucky enough to just catch the last of the orange blossom and it delicately scented the streets in the warm breeze.
We stayed for three nights and had two full days wandering around the city. I would have loved an additional day and I'd recommend only doing one site seeing location each day, if you can. We had to squeeze two in on one day as tours get booked up really quick - so it pays to be prepared in advance.
Day one in Seville
Our first day was a Sunday and we got up early and headed out in the direction of the
Casa de Pilatos
. On route we came upon the Metropol Parasol. A massive wooden structure that was designed by the German architect Jürgen Mayer. You can book to walk along the top but we chose to just gaze from underneath!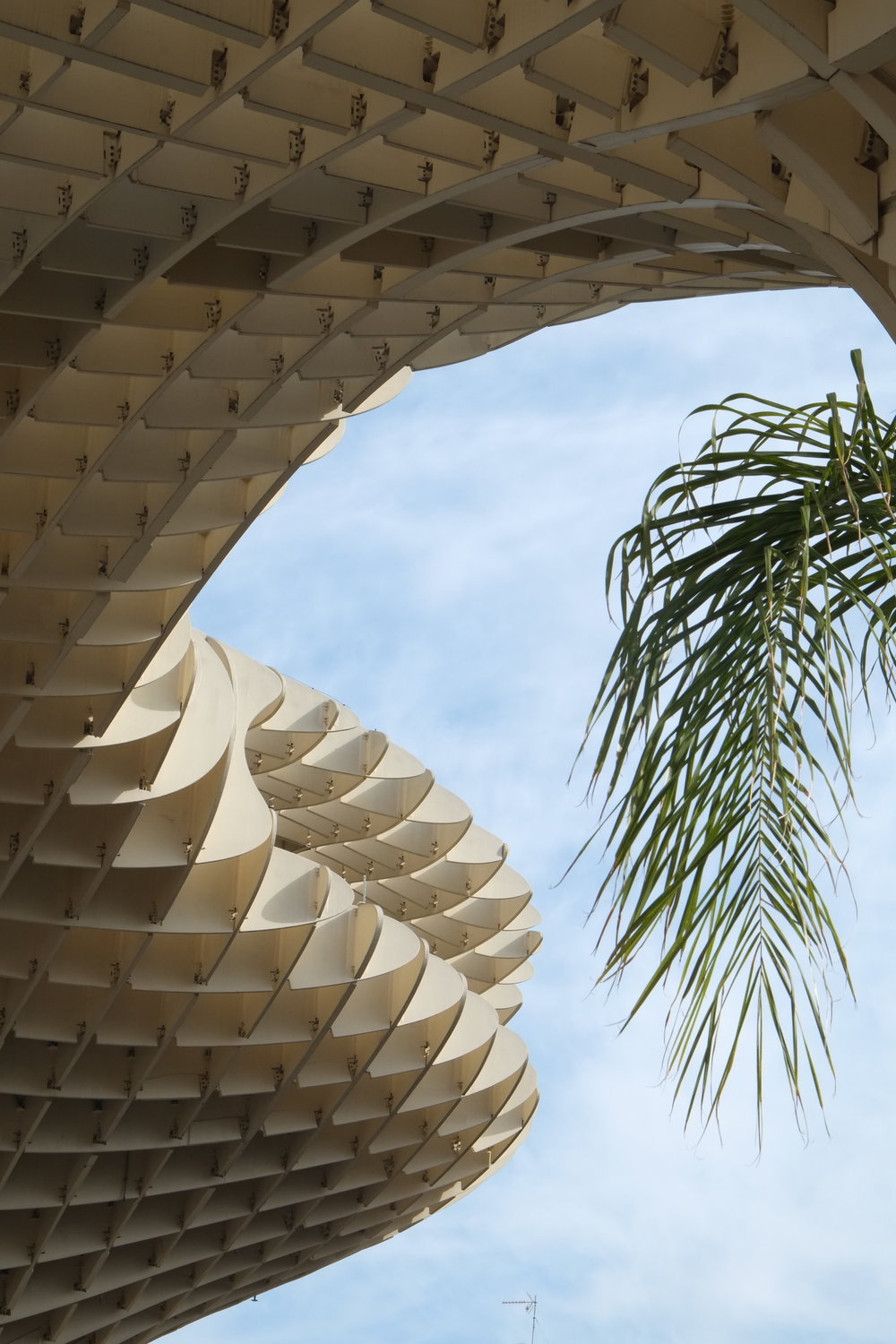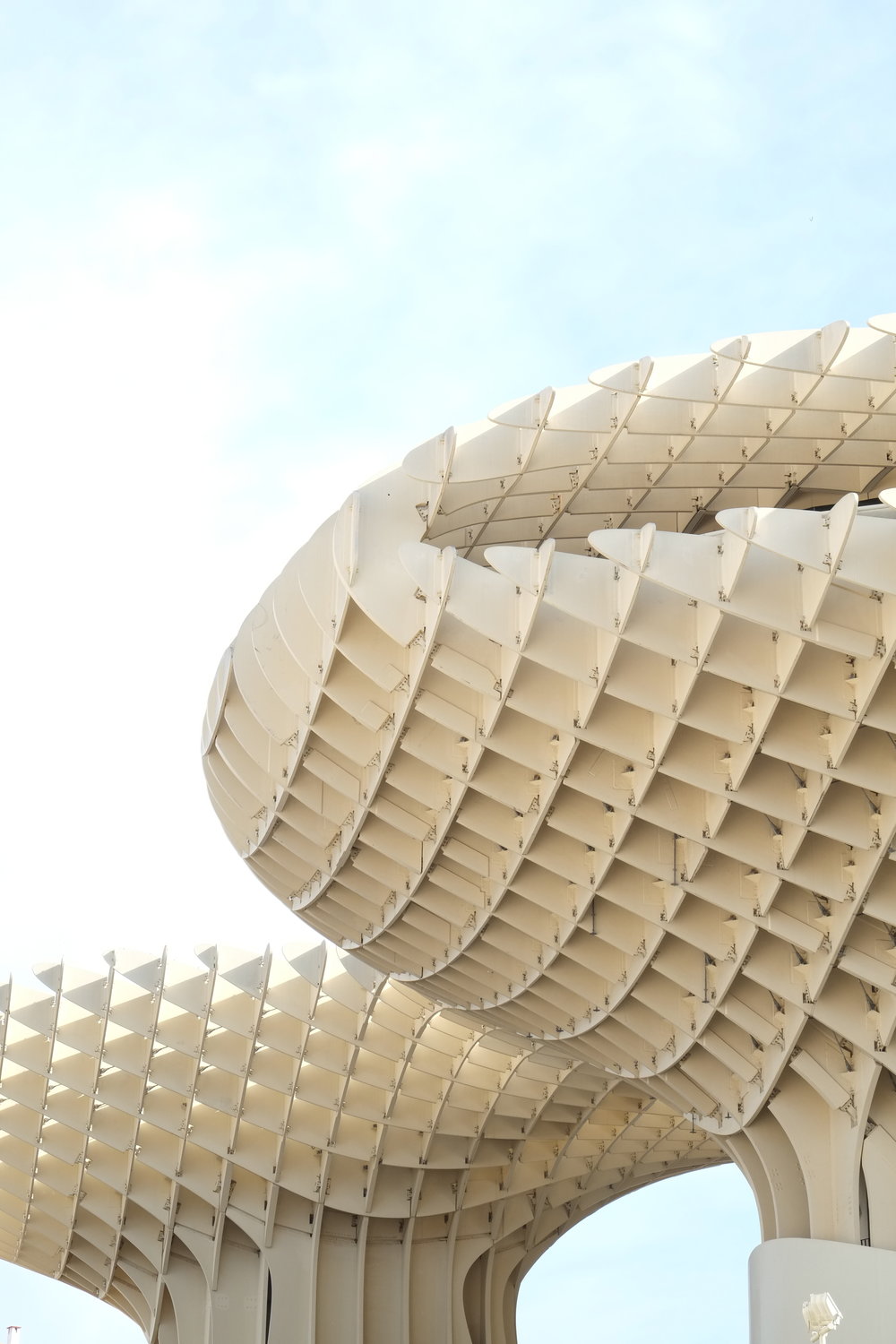 Casa de Pilatos
Having not booked in advance meant we had a small queue before entering but it was totally worth the wait. This palace dates from the last quarter of the 15th century and displays the most incredible tile works and vitas from every angle. The creation of the palace resulted from the marriage of Catalina de Ribera and Pedro Enriquez and the joining of both the family dwellings. The Palace became significantly important for Seville in terms of the architecture. We paid to go up to the first floor and view the rooms of the Palace. Like with all the tours they have a strict no camera policy so the only way to see it is to visit!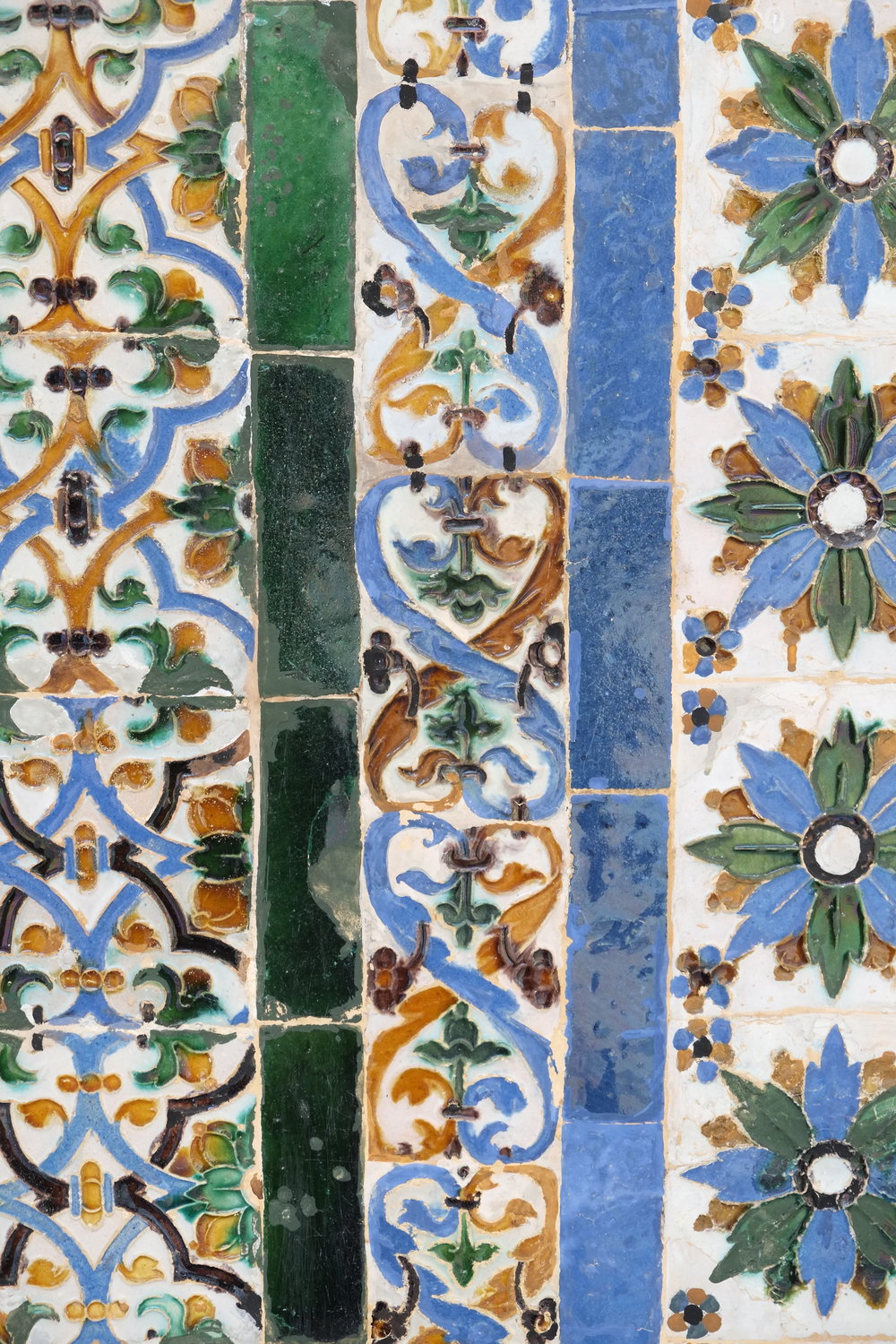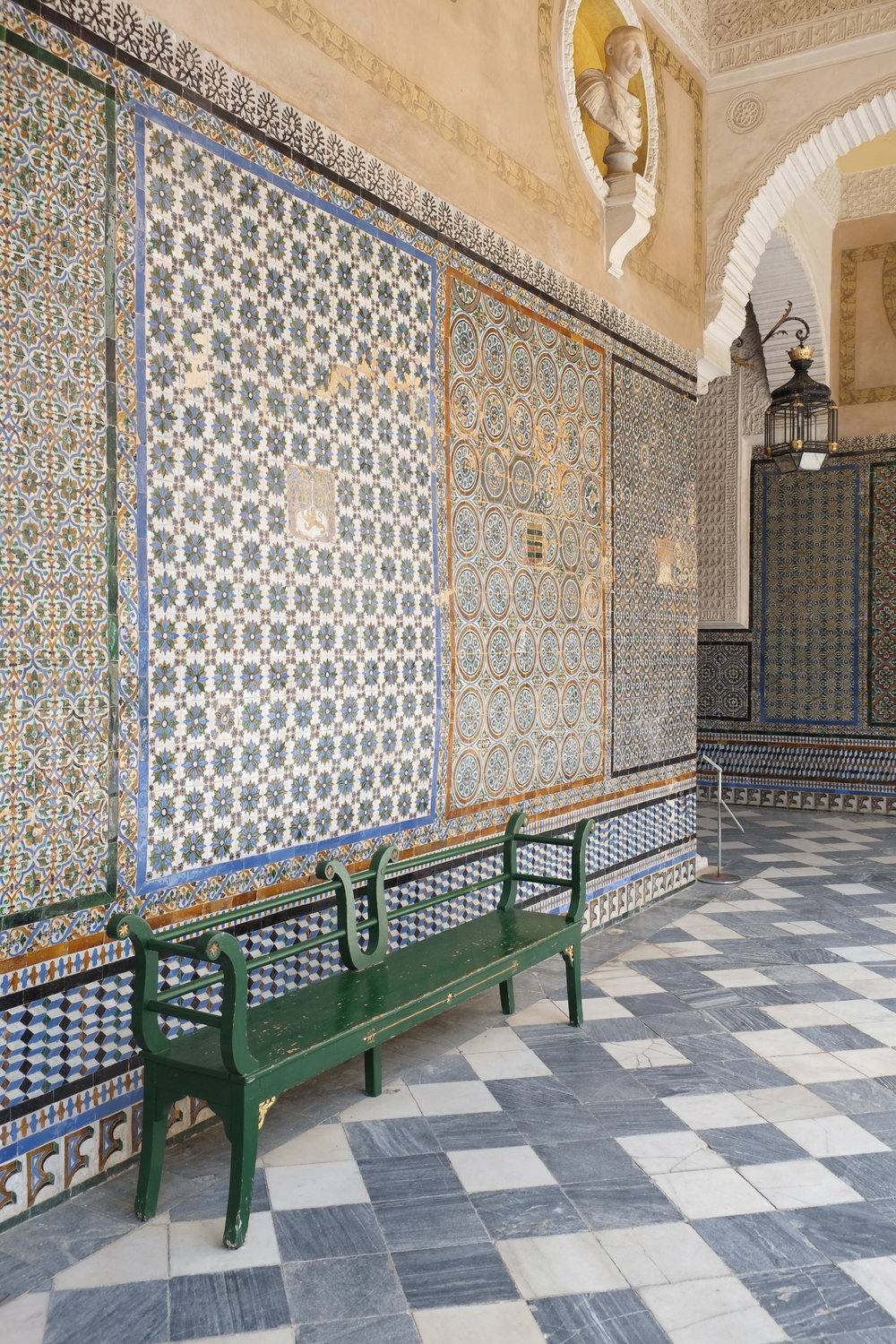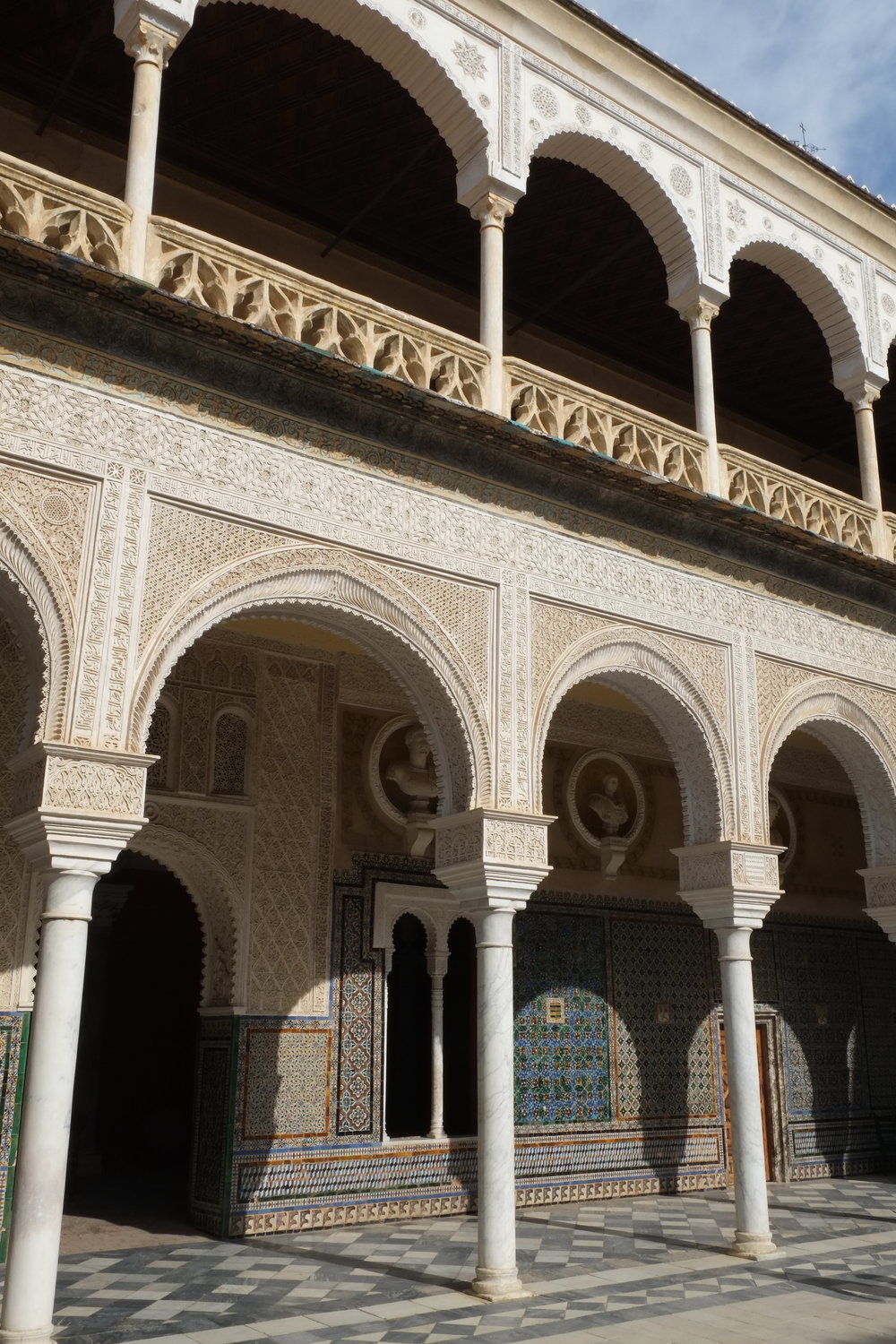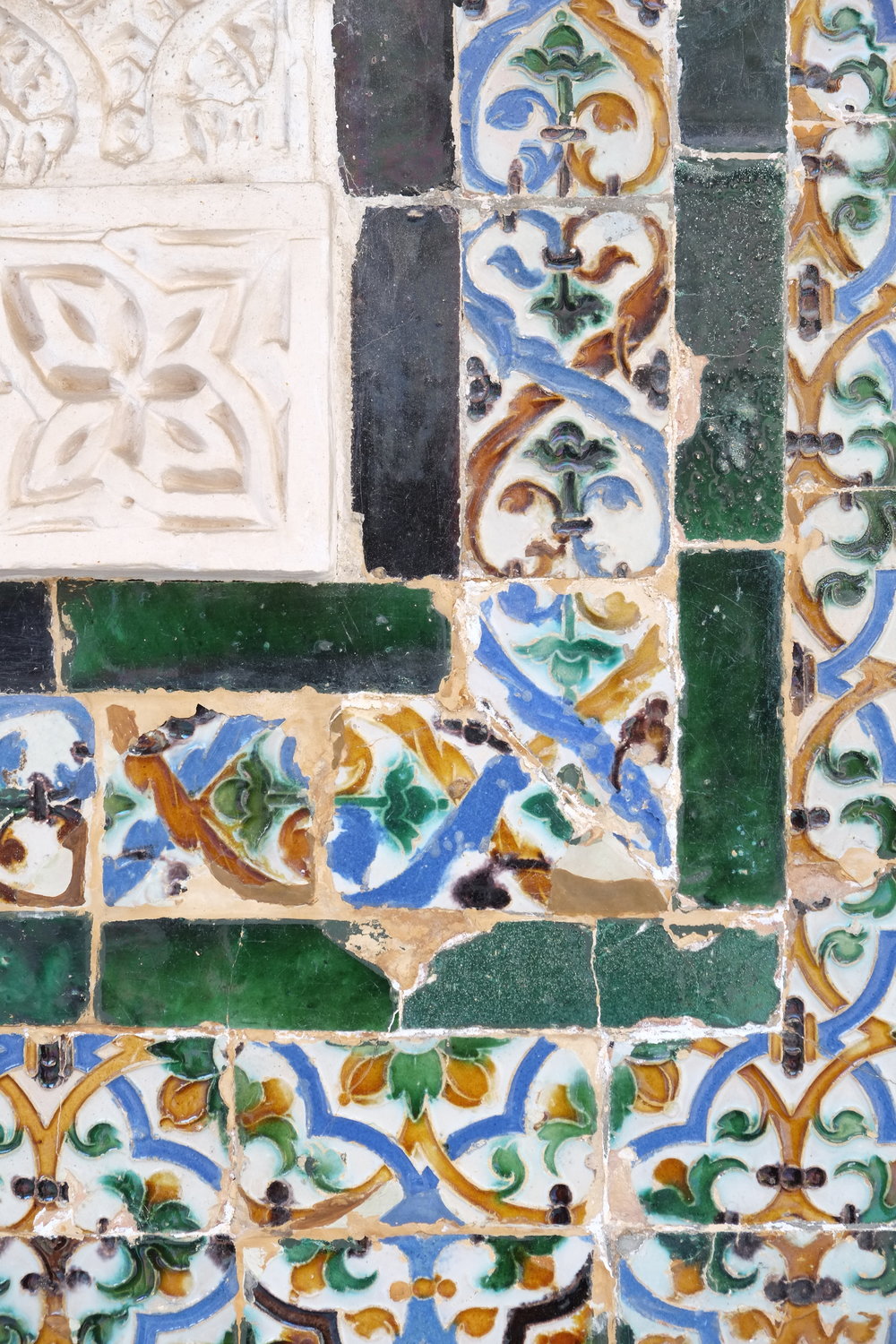 Beautiful tiled walls were flanked by even more breathtakingly wood carved doors.
From dark cool rooms vistas opened to bright yellow garden rooms hinting at the promise of El Dorado just beyond.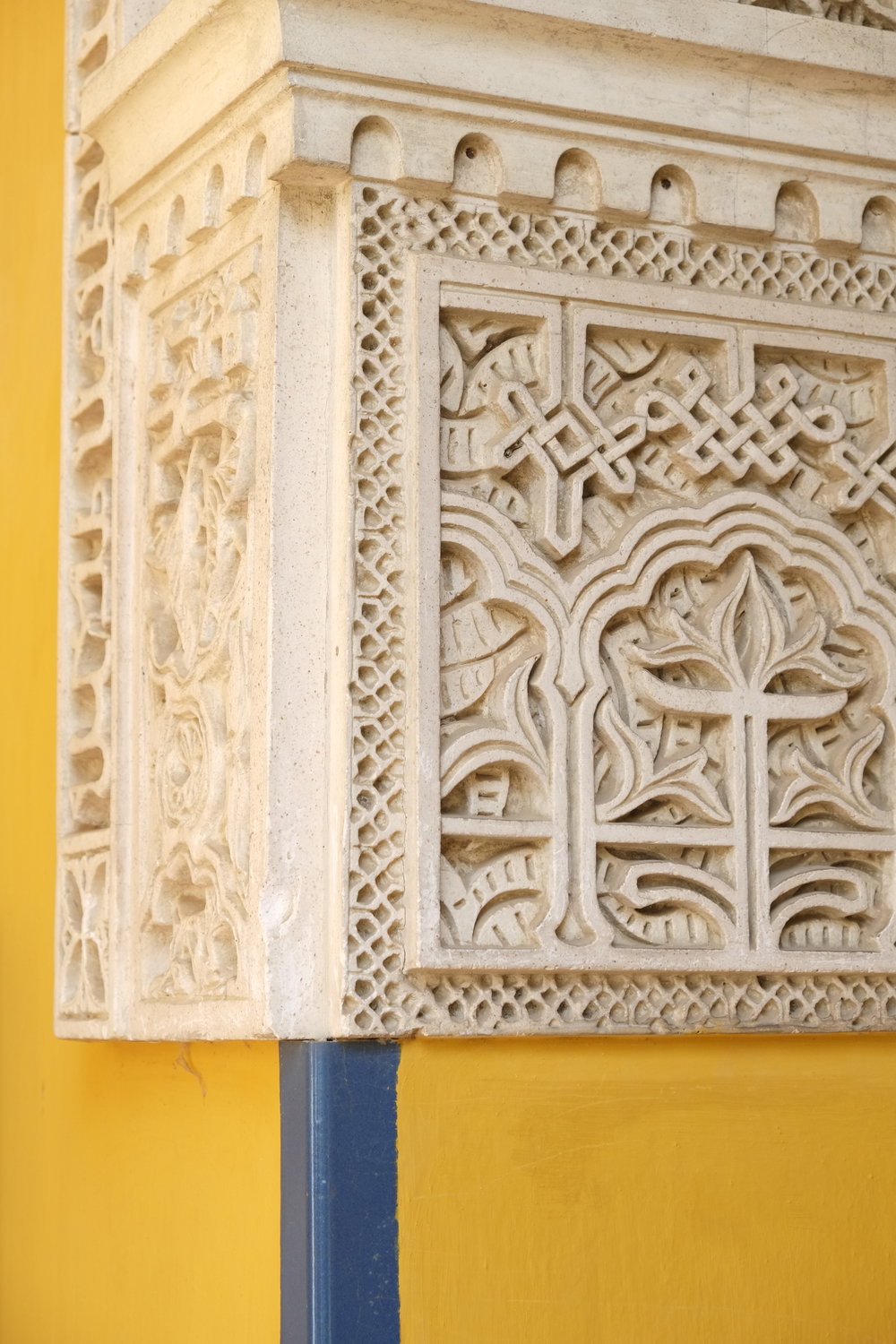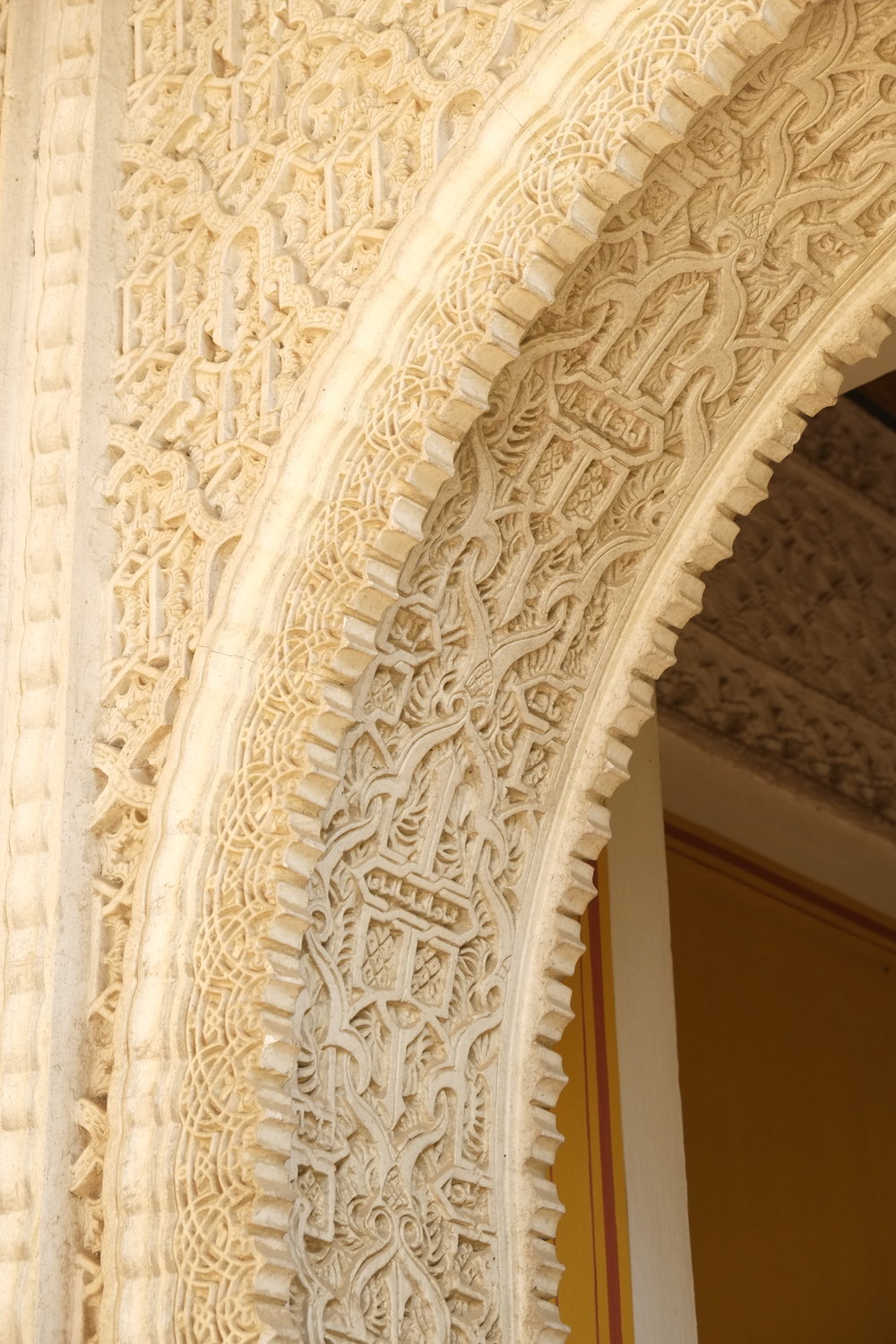 Enclosed on all sides these Palace courtyard gardens are the Sevillian version of our Victorian walled gardens. Rising above a maze of topiary the domed orange trees create shade for those privileged few that still sit amongst them.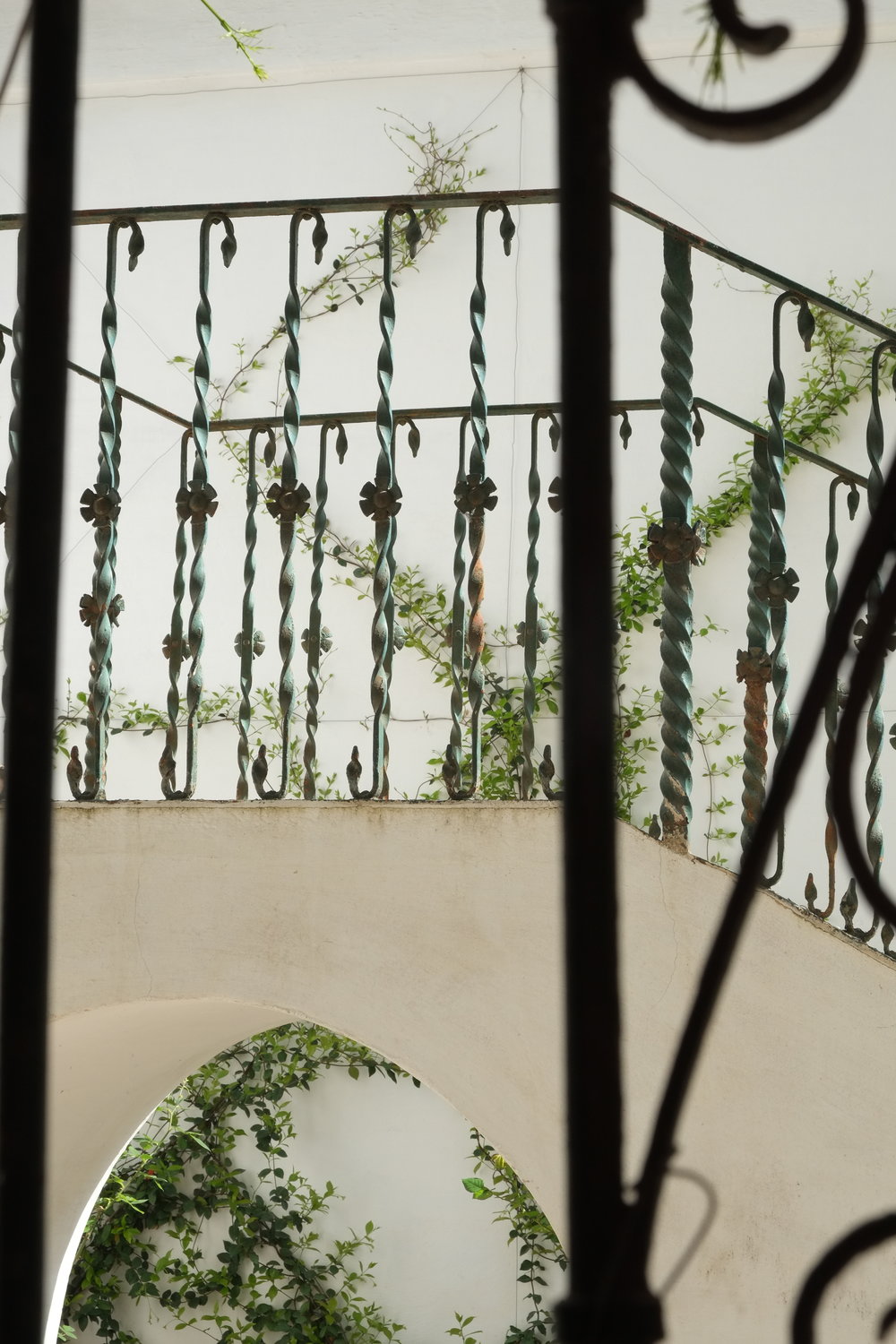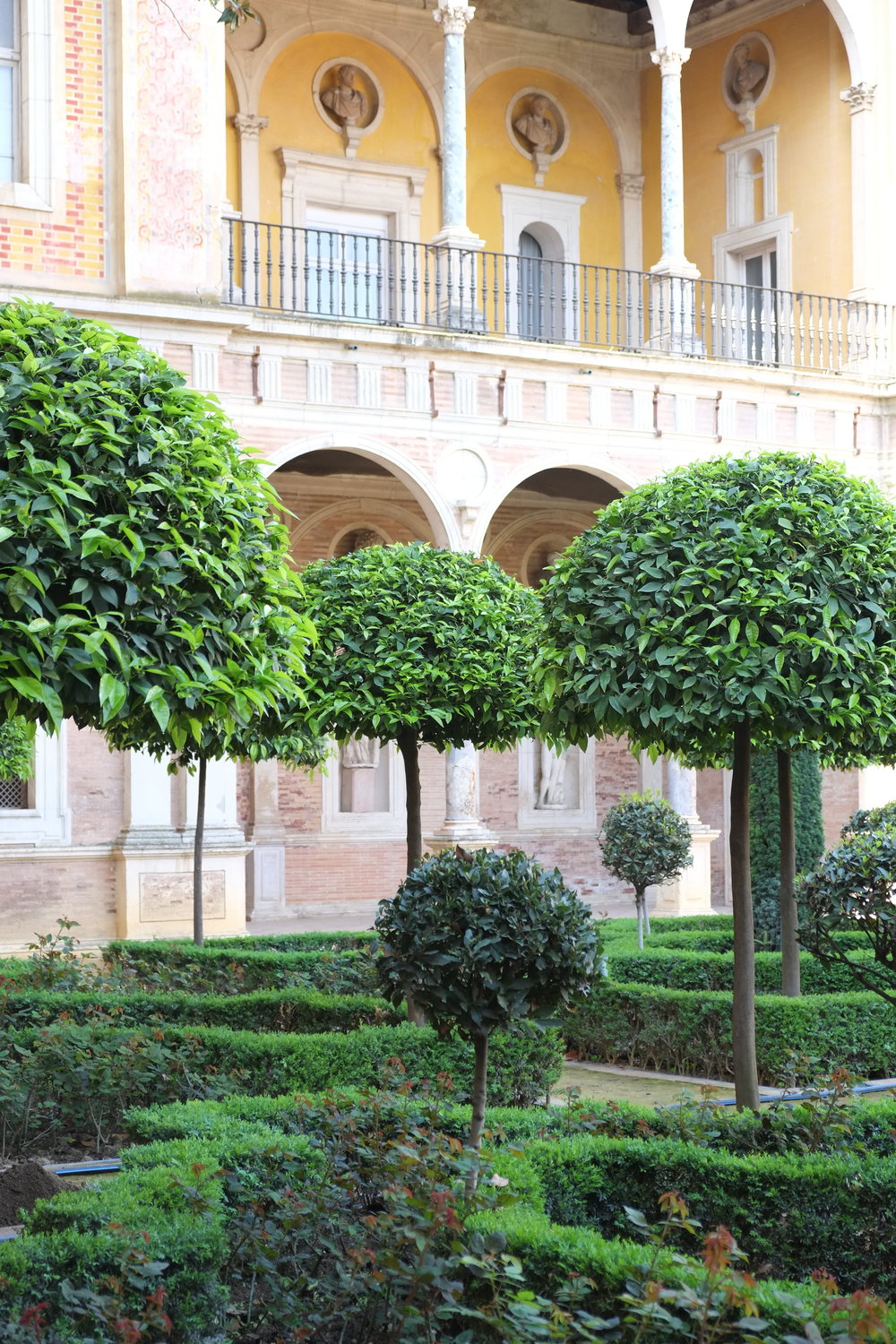 From the first floor it was the tones of the roof that caught my eye, beautifully layered in a soft palette.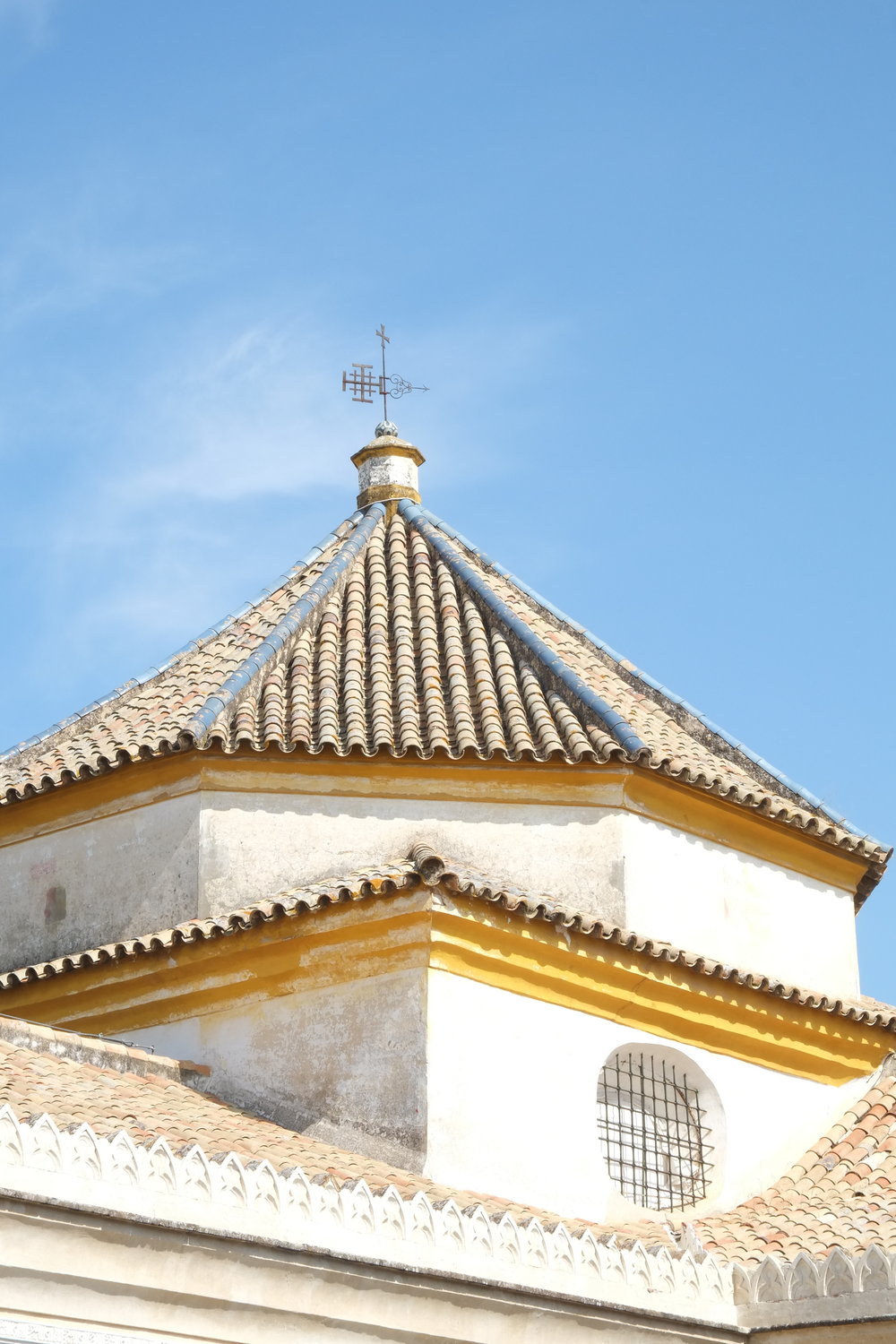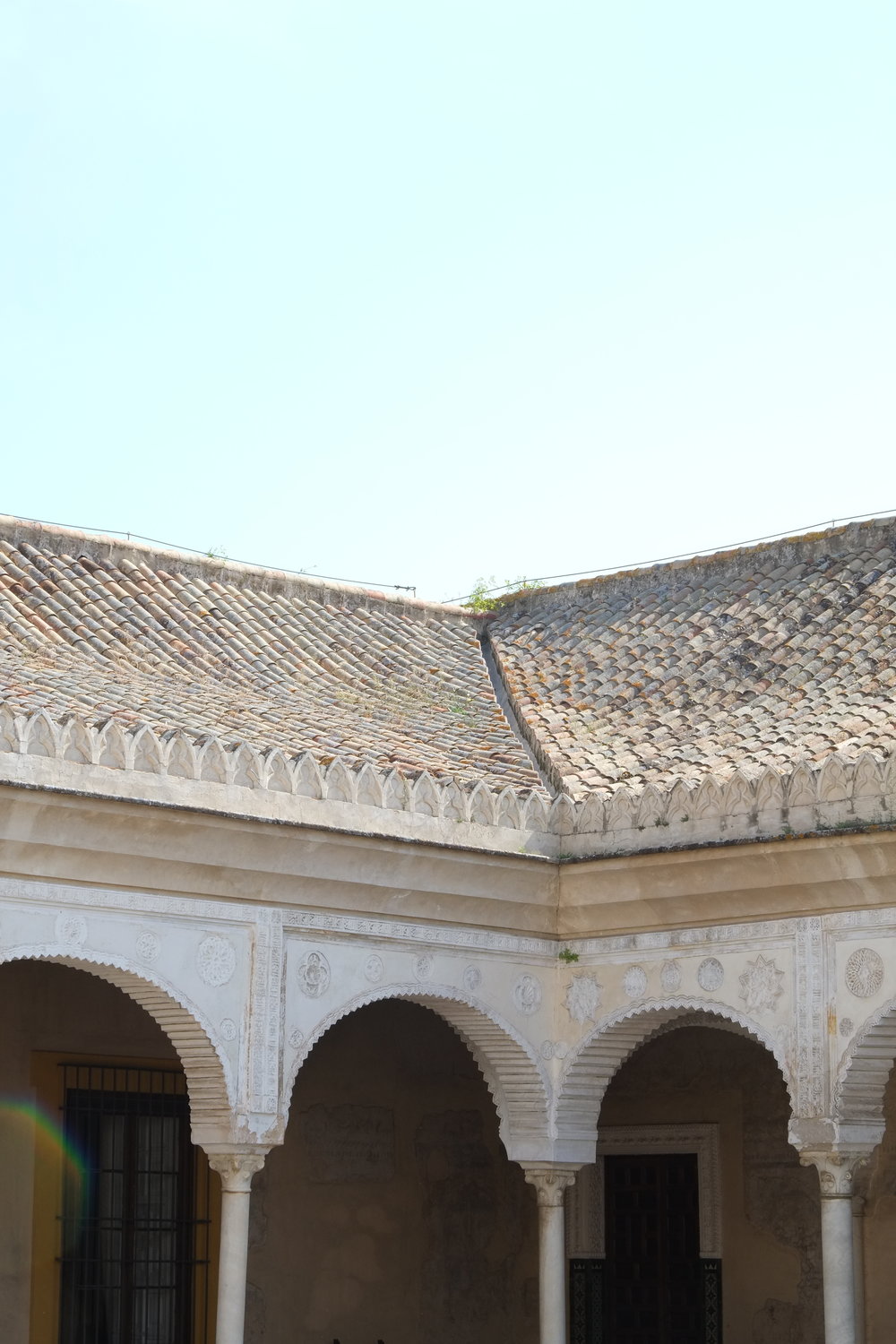 Day Two in Seville
Monday is a busy day in Seville as a number of the tourist sites are actually free so the city swells with school trips. We booked in advanced to do the first floor tour of the Real Alcazar and the Cathedral Roof Top Tour later in the day. Both were completely sold out so it is essential to book prior to leaving the UK.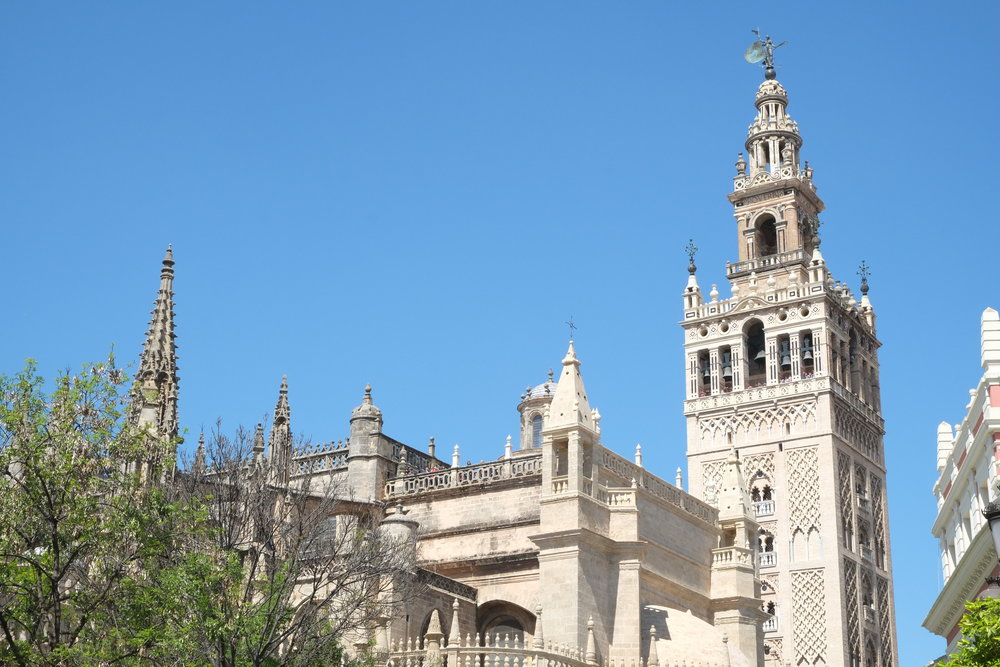 Cathedral Seville
Real Alcazar
I don't suppose any of you are surprised if I tell you this was the visit I was most looking forward too! It would seem my birthday and Spring in Seville is perfectly in tune with each other and my treat of the entire weekend was walking head first into this wisteria!
I have to say I didn't opt for the headphone tour information guide, mainly because I just wanted to wander and soak it all up in peace but for this reason I can't tell you how old the wisteria is!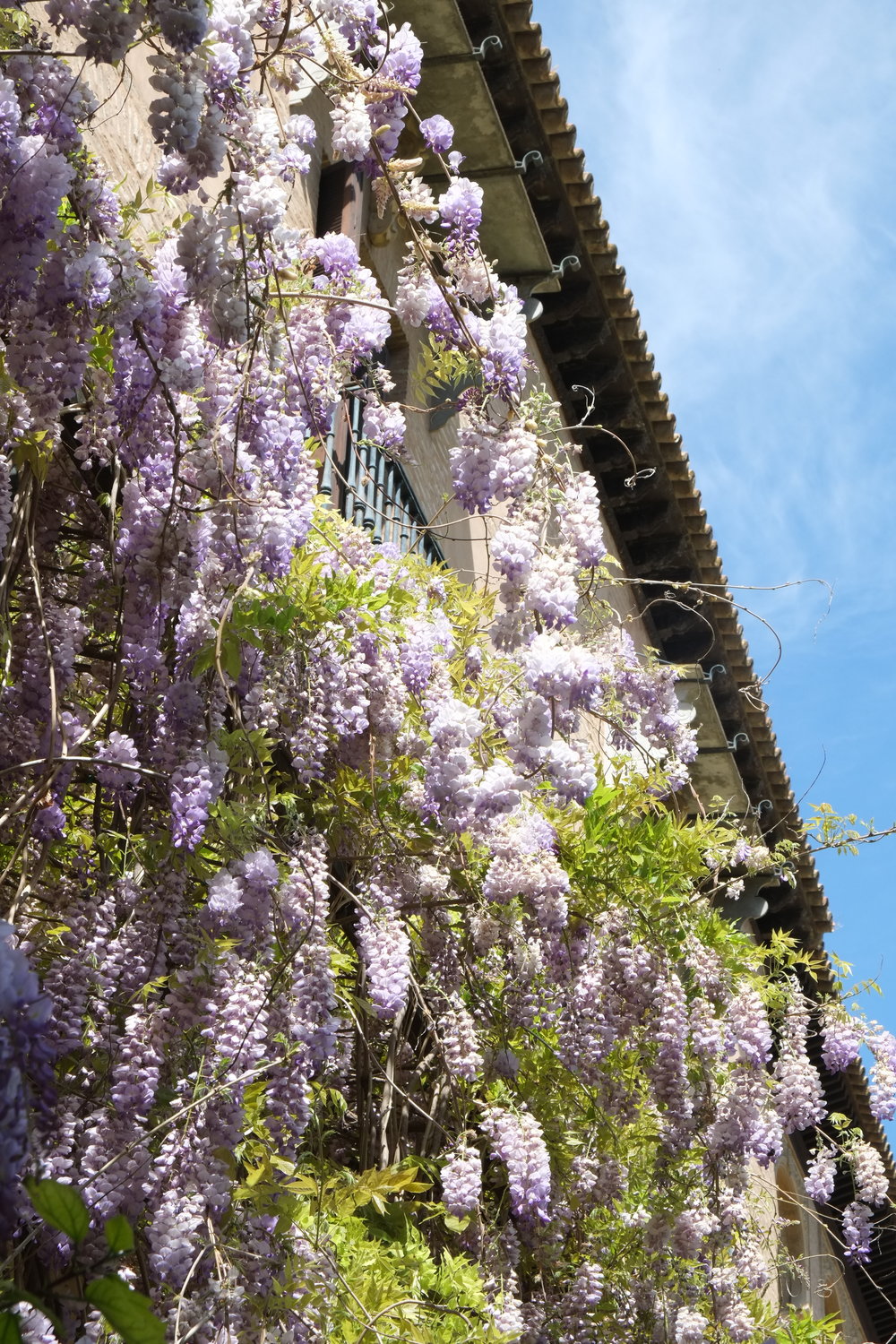 I left the husband with a book under the shade of an orange tree and wandered around the vast gardens. Even though it was busy I was able to find spots by myself and soak up the enormity of this magnificent place.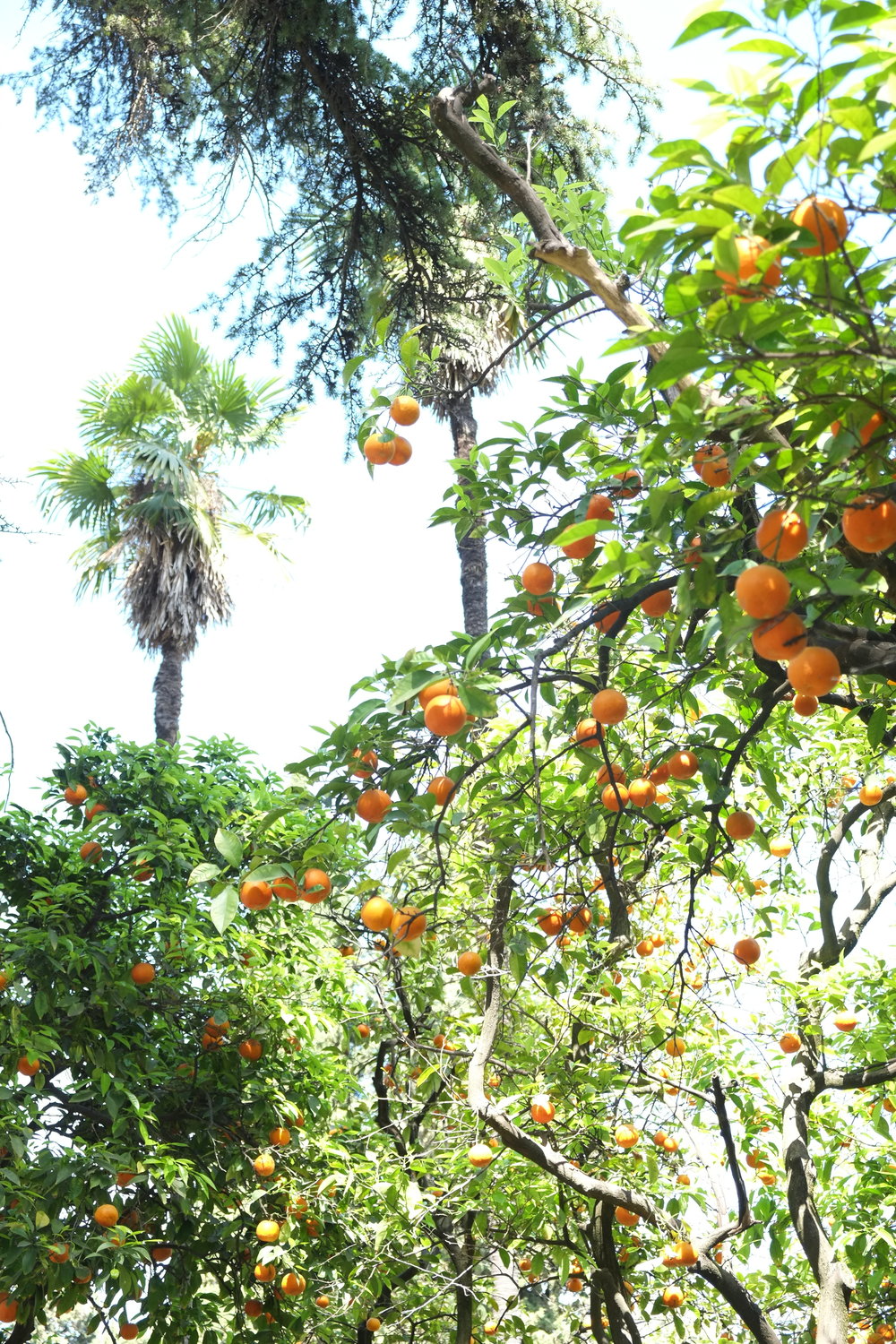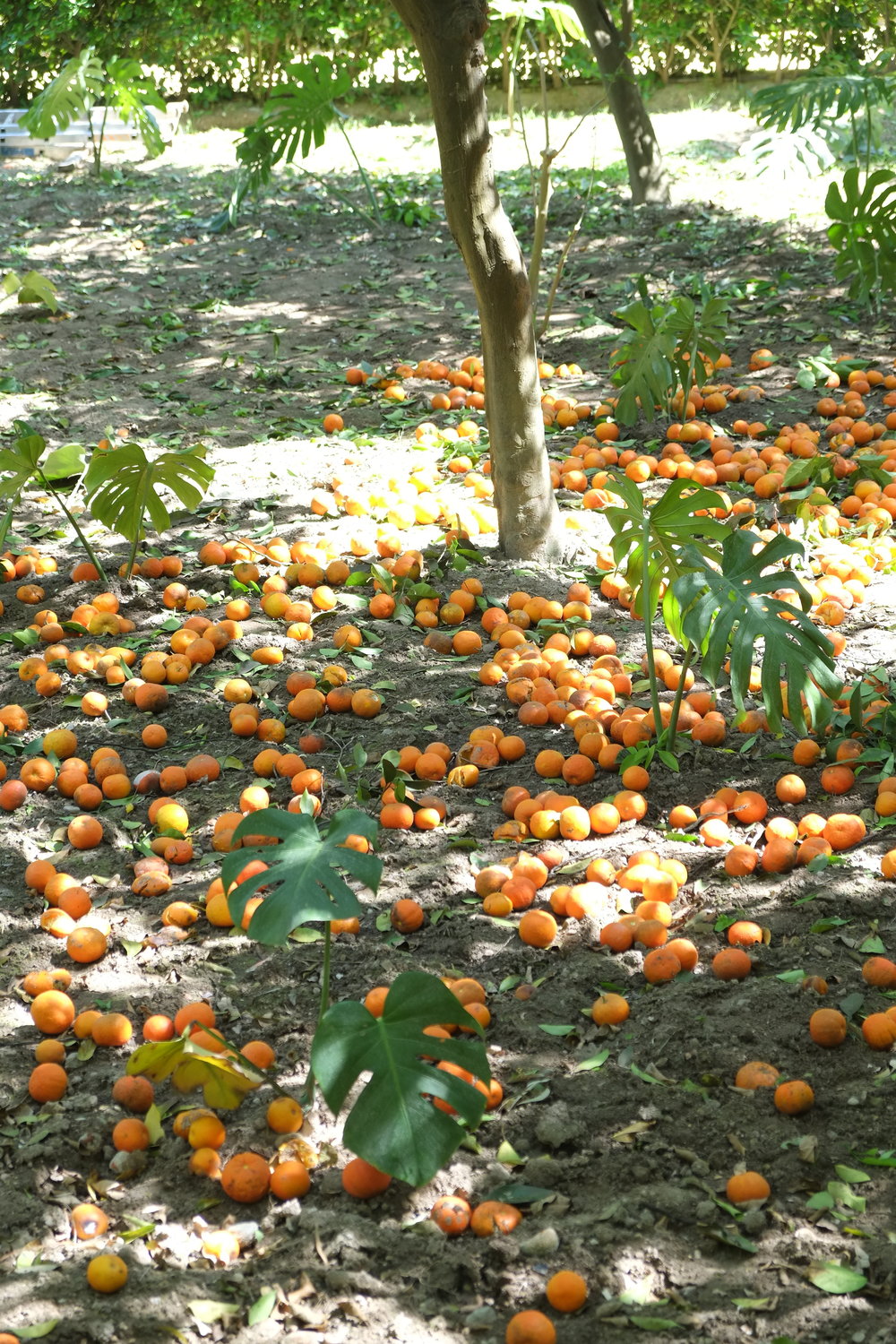 Whether it was the building or the garden, architecturally the Real Alcazar is incredible. Huge palms rise up from behind a maze garden as if to spy of those lost below.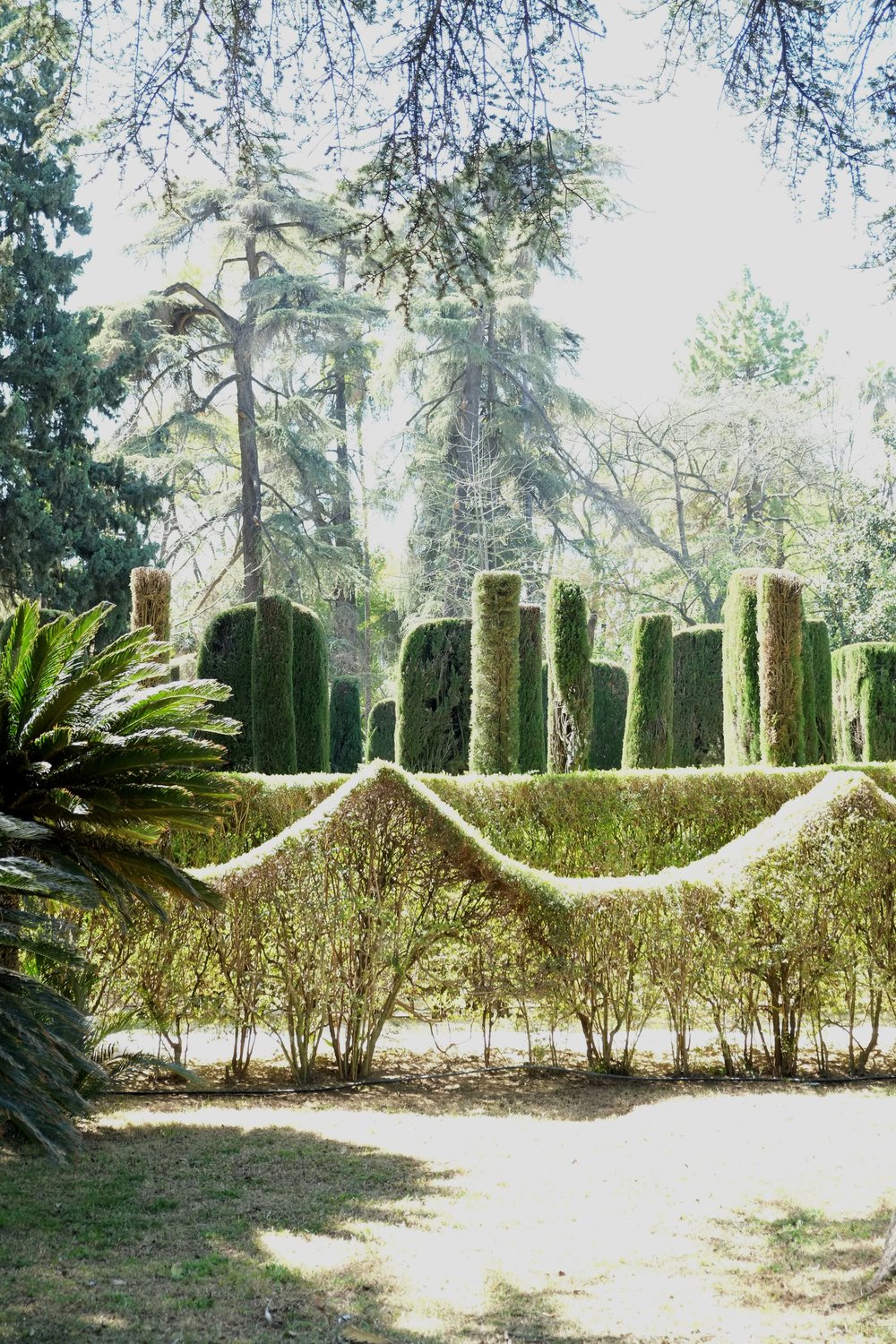 The luxe prize has to go to the King, his official office, albeit completely ceremonial makes all our offices look rather dull!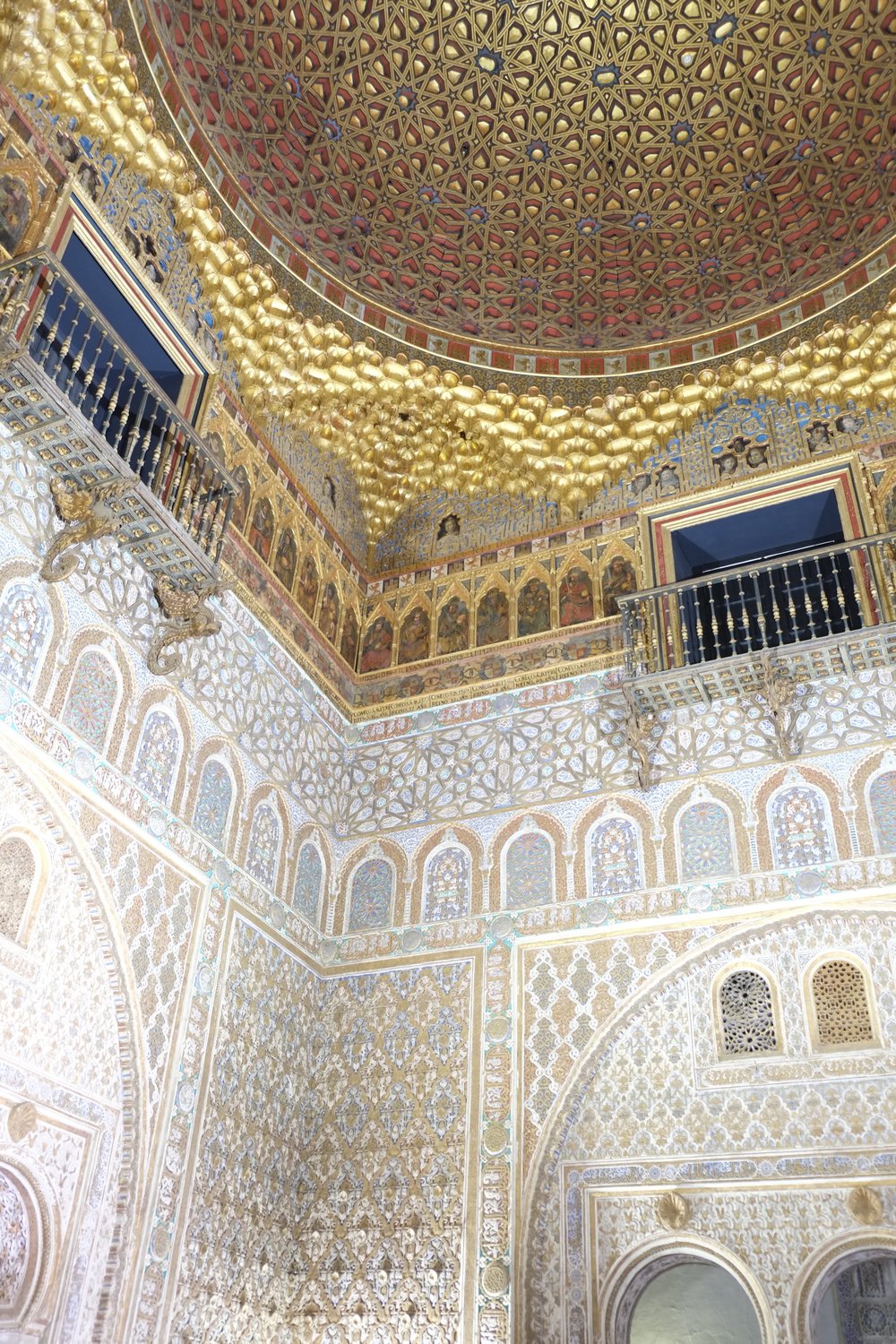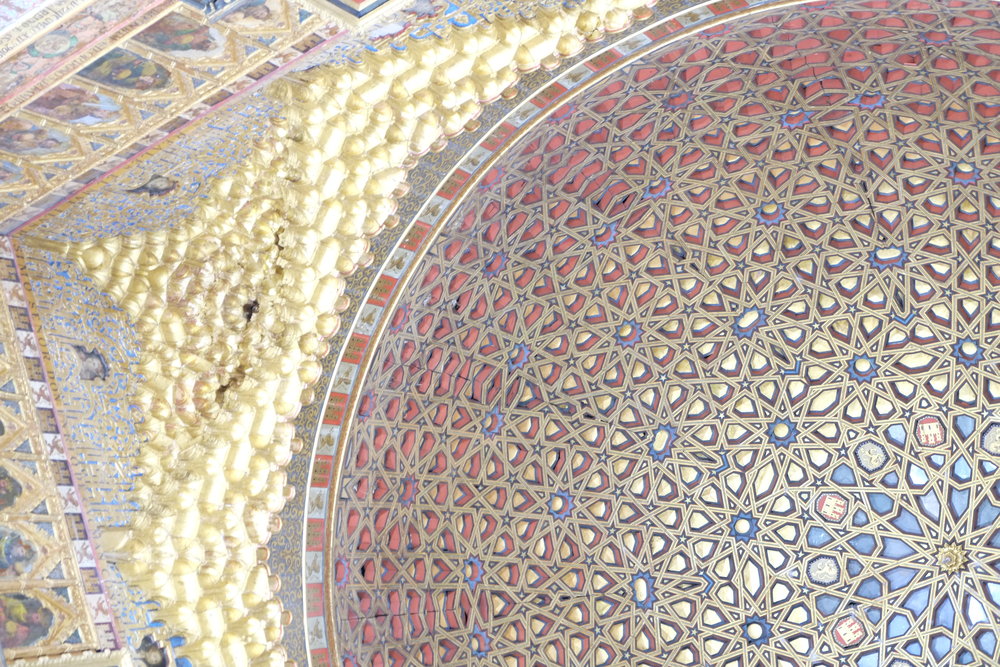 Cathedral Roof Top Tour
Finally as the sites were closing and the city was moving into evening mode we headed up to the roof tops of the Seville Cathedral. Now, I've only few images from this experience and all I can say is that my main priority was to hold on to something strong rather than a camera!!! This trip isn't for anyone who has a height issue but if you have the courage it is amazing and our guide was brilliant. Again you must book this before you go.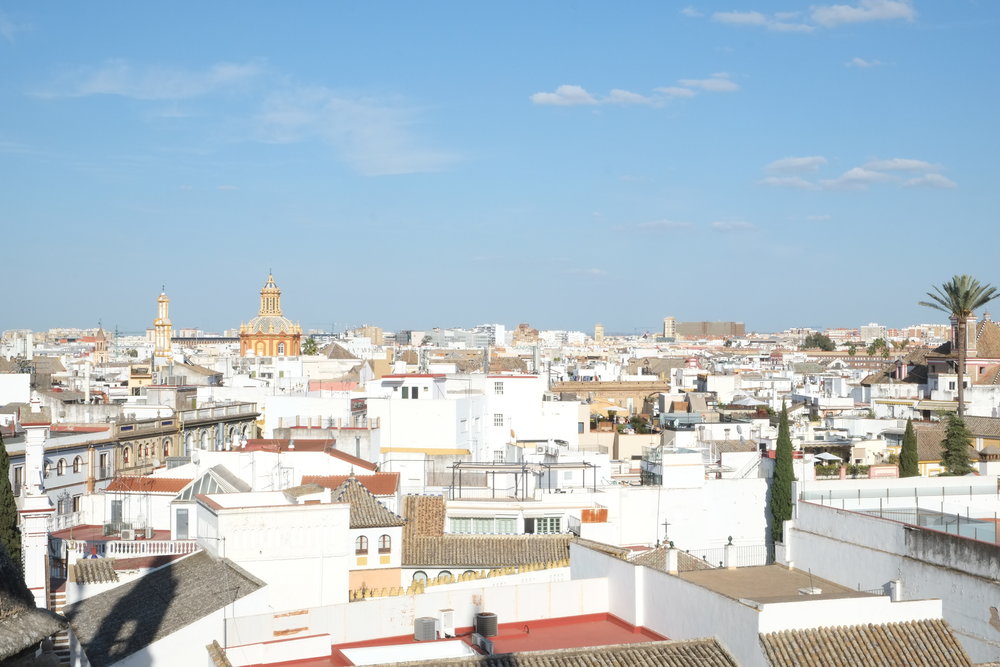 View from the Cathedral roof top tour.
The Clothing Crisis
Surely I'm not the only one that has to research the exact temperatures of every hour in the day before going on holiday?! In the end, after much consultation with my mother on what to wear, I was pretty pleased with my clothing choices! It's certainly on the colder side in the mornings but the evenings were actually really pleasant. Even in early spring mid-day was like a five star summers day in Cornwall. So packing with layers was essential. I took dresses for the day and linen trousers for the evenings and packed a warm jumper to layer over. Obviously my husband had no issues with his wardrobe and opted for the shorts for the entire weekend….. oh men have it so easy!!! Comfy footwear is big plus point but I found myself in Salt Water Sandals each day as I live in them in the UK in summer.
Hotel
We stayed for three nights at the
Hotel Lobby Rooms
, opting for a hotel over an Airbnb simply because we weren't looking for a home from home. Seville is blessed with great hotels and in the end we made our booking via Bookings.com. The hotel was in a good location and it only cost 35 euros for a transfer from the airport which they arranged.
Restaurants
We had three evening meals in Seville and it's fair to say they got better and better and the last night was outstanding. Booking for a Saturday or Sunday night is essential in some restaurants but you are spoilt for choice. Frankly the worse thing that can happen is you have a 20 minute wait and have to drink at the bar!
On arrival we ate at
La Azotea
which was just around the corner from our Hotel. It was really lively on the Saturday night and seemed to be popular with the locals. Beautiful tapas in a fast moving environment, apparently the puddings are outstanding but unusually I couldn't fit anymore in!
Second night we booked to go to
Mamarracha
following a bit of Instagram research. This restaurant has a really trendy vibe with a living wall garden - so I had to see it! The food was great but it lacked something that I can't really put my finger on. Maybe a little too chain like…?!
On the last night we hit the jackpot with
El Traga
. It was the husband that spotted it on the previous night and we took a chance and just turned up however being a Monday night it wasn't necessary to book. The food what absolutely amazing and the staff were brilliant. I can't recommend it enough.
If you are a gin lover like me - find a nice sunny bar, try the Nordes gin & tonic and watch the world go by. These moments were some of the best.
Continue reading...