May 08, 2020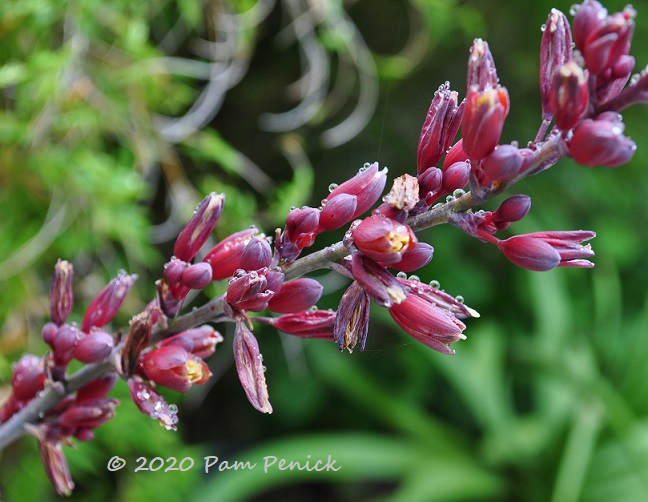 Hesperaloe 'Desert Dusk' flower spike
I'm always grateful when early May rolls around, even though it means summer's sauna-like heat is right around the corner. Why? Because the 20 mature live oaks in my garden are finally done dropping daily heaps of leaves and pollen catkins. And because I've managed to clean it all up and can see my plants again.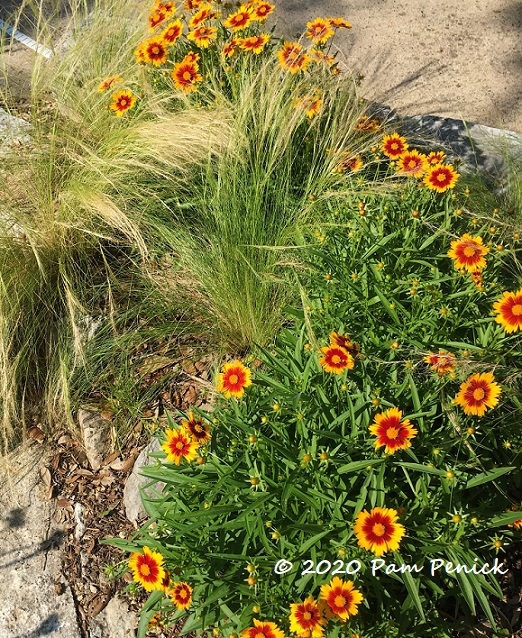 'Sterntaler' coreopsis and Mexican feathergrass
Early May has all the promise of glorious summer in more-temperate climates, with none of the heat and drought stress that often occur during a Texas summer.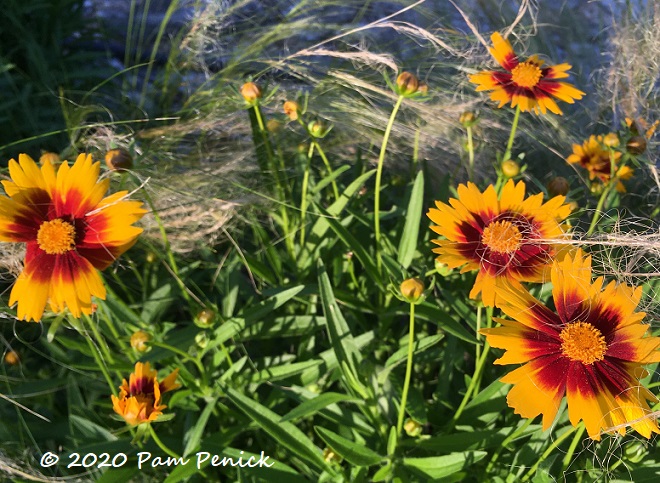 It's summer as it should be.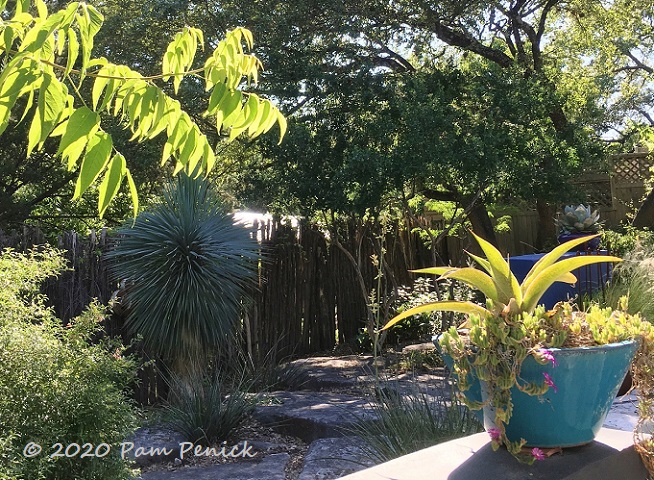 A sunlit 'Macho Mocha' mangave with flowering ice plant in a blue pot
In order to soak it up, I've been spending as much time as I can out on the patio.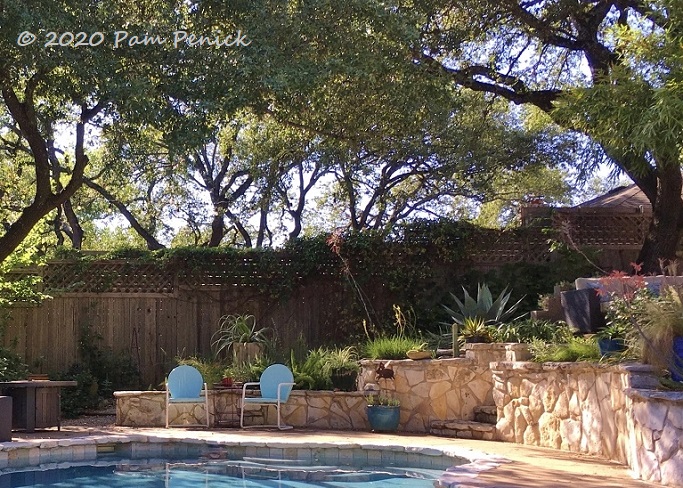 Aloes and 'Chocolate Chips' manfredas send up red-flowered bloom spikes that delight hummingbirds
And we've already been swimming a few times. Another month and I'll be soaking in here and staring at the garden with a critical eye, deciding what needs to change come fall. But for now, in early May, I simply appreciate what looks good.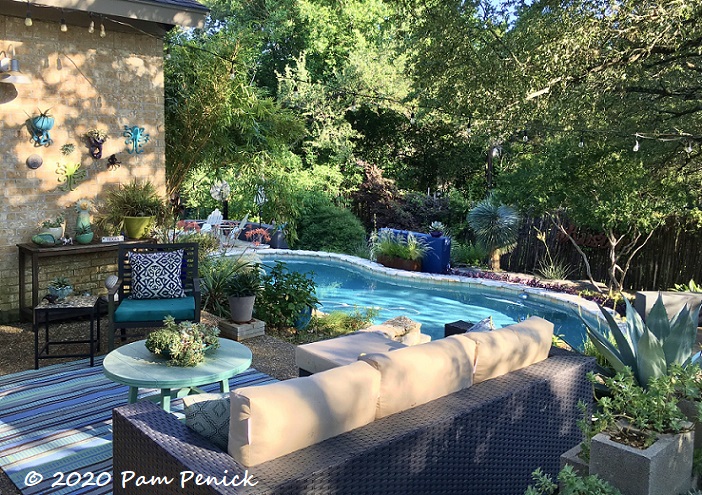 I've been catching up on my reading on our comfy new patio sofa. I don't usually risk cushioned furniture because of squirrels that chew them open to get at the stuffing. But by gosh, I wanted a comfortable place to lounge and finally took a chance. Don't make me regret it, squirrels!
A cool-hued container combo: purple oxalis and a turquoise pot.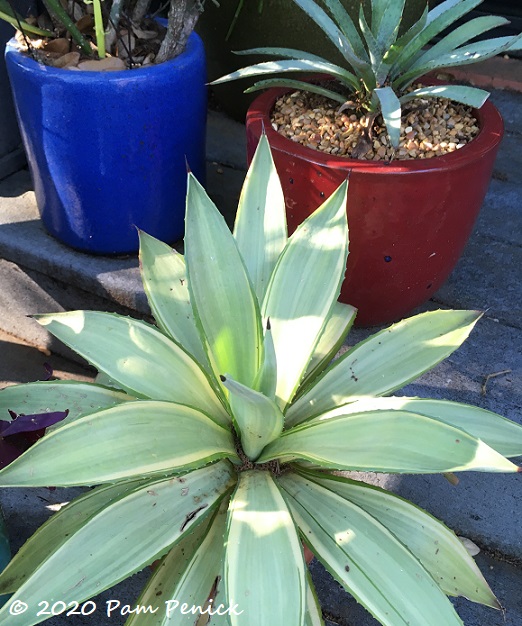 Key-lime-pie-hued 'Joe Hoak' agave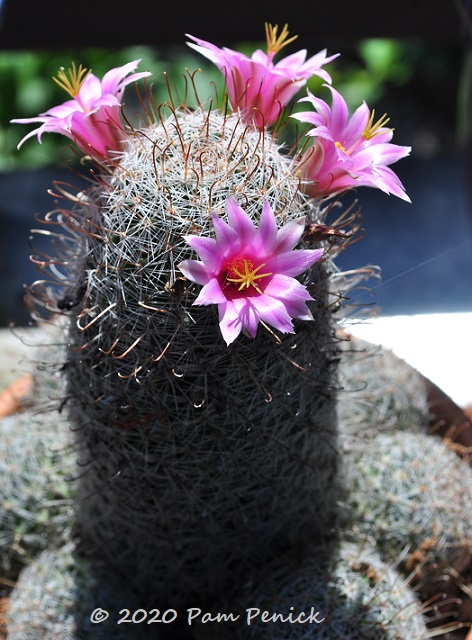 On the sunny deck, a
mammillaria cactus
is still pumping out satin-petaled, carnation-pink flowers. Ah, May in a Texas garden.
I welcome your comments; please scroll to the end of this post to leave one. If you're reading this in a subscription email, click here to visit Digging and find the comment box at the end of each post.
_______________________
Digging Deeper: News and Upcoming Events
Take a virtual garden tour
May 1 through 31! From the comfort of your home, stroll through lovely, quirky gardens and meet the amazing gardeners who created them. This is a month-long, online version of the annual Cooper-Young Garden Walk in Memphis, Tennessee, a self-guided tour of private gardens and businesses highlighting urban gardening throughout the historic Cooper-Young neighborhood.
Join the mailing list for Garden Spark!
Hungry to learn about garden design from the experts? I'm hosting a series of talks by inspiring garden designers, landscape architects, and authors a few times a year. Held in Austin, the talks are limited-attendance events that sell out quickly, so join the Garden Spark email list to be notified in advance. Simply
click this link and ask to be added
.
All material © 2020 by Pam Penick for Digging. Unauthorized reproduction prohibited.
The post
Early May, summer as it should be
appeared first on
Digging
.

Continue reading...