Homemade Authentic Guacamole Recipe
This
homemade authentic guacamole recipe
is fresh, flavorful and so easy to make you'll never need to buy guacamole again! And it's only 3 ingredients!!!
Easy Guacamole Recipe
Every year I mean to post an easy guacamole recipe as it's something we make all summer long, but I make it, we can't wait to dig in and it's gone.
The best guacamole recipe is a classic one. If you want a bacon guacamole, I've got it. This isn't that.
How do you Make Guacamole from Scratch?
I have watched every single table-side guacamole being made, I've asked my friends who are native to Mexico, I've been to Mexico a lot and thoroughly research and a truly authentic guacamole from scratch is actually just a few ingredients:
Avocados
Salt
Lime Juice
Cilantro
How to Make Guacamole
Cut open the avocados and remove the pit by hitting the pit with a sharp knife and then twisting to remove. Scoop the flesh into a bowl.
Add chopped cilantro and juice of 1/2 a lime. Sprinkle in a good pinch of salt.
Begin to mash with a fork or use a Mortar and Pestal.
Taste and add more lime juice if it doesn't taste very fresh and bright and more salt if it isn't very flavorful, stirring instead of mashing at this point.
Serve with chips!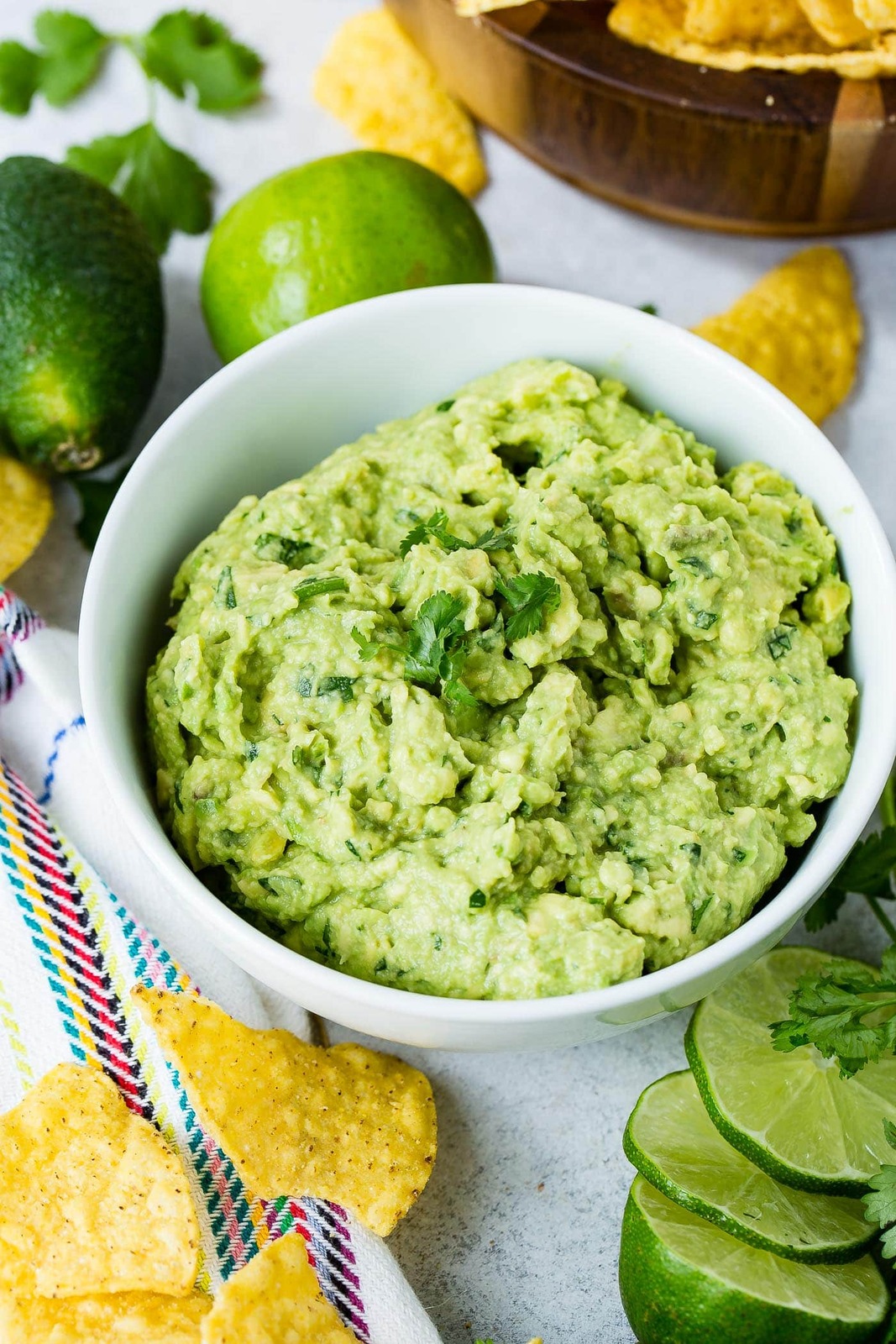 Guacamole Add-ins
Sometimes you want to play around with flavor a little more which is totally fine. Try these simple to more extreme additions.
Pepper
Jalapeno
Onions or Onion Powder
Garlic or Garlic Powder
Chili Powder
Tomatoes
Pineapple
Mango
Bacon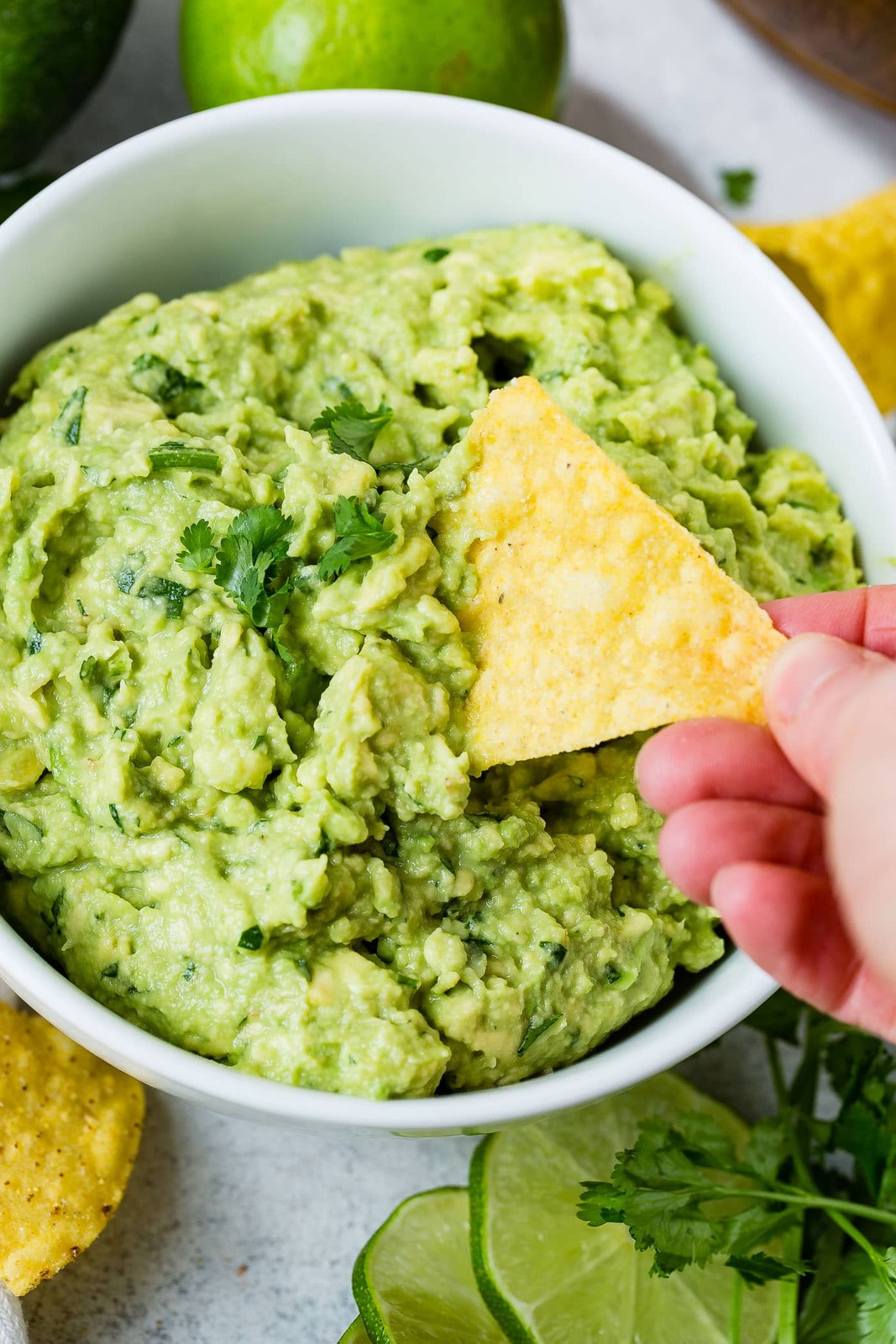 Is Guacamole Healthy?
Guacamole is packed with health benefits.
The avocado in guacamole provide heart-healthy monounsaturated fats and fiber.
How Long Will Guacamole Keep?
Homemade guacamole will keep for 1-2 days in the refrigerator.
Store-bought guacamole that is unopened will last for 2 weeks in the refrigerator.
Once it is opened, it should be eaten within 2 days.




Can You Eat Guacamole That Has Turned Dark?
Even though dark guacamole doesn't look very appetizing, it is still safe to eat.
Oxidation, or exposure to air is what turns an avocado or guacamole brown or black.
If it is slightly discolored, you can still eat it, although the flavor may be a little different.
How to Store Guacamole
Guacamole oxidizes really dang quick which makes it turn brown so storing leftover guacamole properly is key. The lime juice helps slow this process, but it's inevitable that leftover guacamole will eventually start to brown.
False Ways to Keep Guacamole Green
Leaving the pit in the guacamole- This does nothing to prevent browning and there's no scientific justification for doing this.
Lemon juice- Naaah- it changes the flavor and the acid still won't help.
Plastic Wrap- Yes, plastic wrap helps but stretching it over the bowl is not going to save it.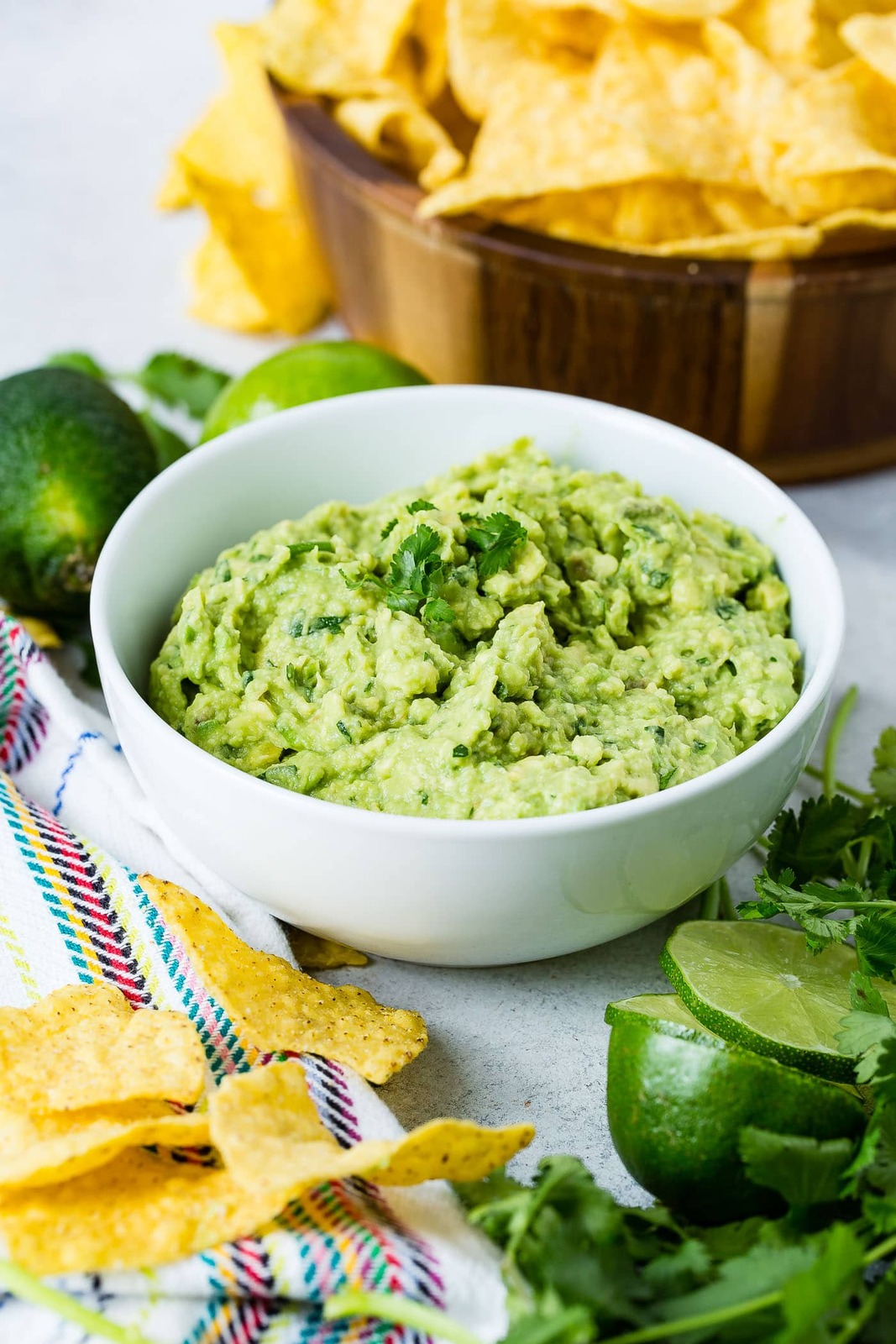 How Do You Keep Guacamole from Turning Brown
Place your leftover guacamole in a plastic or glass storage container and smooth it with a spoon so it's nice and flat.
Add a little cold water on top.
Gently lay plastic wrap over allowing it to touch the water and create a seal.
Place the lid on the storage container and store it in the fridge.
Ready to enjoy the guacamole again? Drain the water off the top, give it a gentle and quick stir and you're good to go.
Can You Freeze Guacamole
Yes!! You can freeze guacamole but you should really use a vacuum sealer like our favorite
Food Saver
which I cannot live without. To merely place in a ziploc bag is ok for a week but ice crystals will form.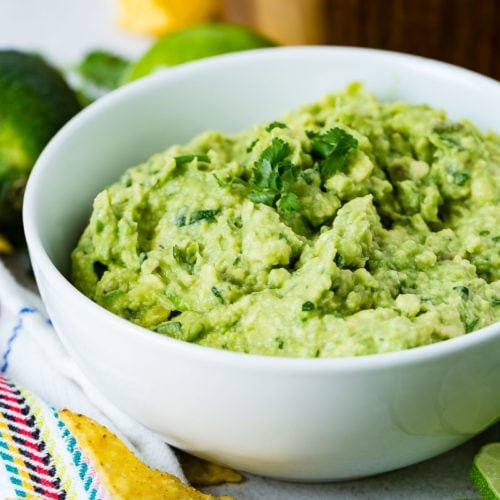 Print
Guacamole
Course 30+ Easy Dip Recipes You Can't Stop Eating
Cuisine Mexican
Prep Time 10 minutes
Calories 1305kcal
Ingredients
4 Avocados large
1/2-1 Lime juiced
1 Handful Cilantro fresh, minced
Salt to taste
1 Clove Garlic optional
1 dash Chili Powder optional
Instructions
Place the avocados, cilantro and lime juice in a bowl and use a fork to mash. Season to taste with salt.
Optional, you can add garlic and chili powder for more flavor if you're looking to kick things up.
Nutrition
Calories:
1305kcal
| Carbohydrates:
74g
| Protein:
17g
| Fat:
118g
| Saturated Fat:
17g
| Sodium:
76mg
| Potassium:
3899mg
| Fiber:
55g
| Sugar:
6g
| Vitamin A:
1740IU
| Vitamin C:
92mg
| Calcium:
108mg
| Iron:
5mg
​
READ:
Homemade Authentic Guacamole Recipe
Continue reading...