For the past 2 years, I've been growing Avocado trees in Vancouver. I began growing them in pots. But last Spring, I planted 3 trees outdoors in the ground--permanently.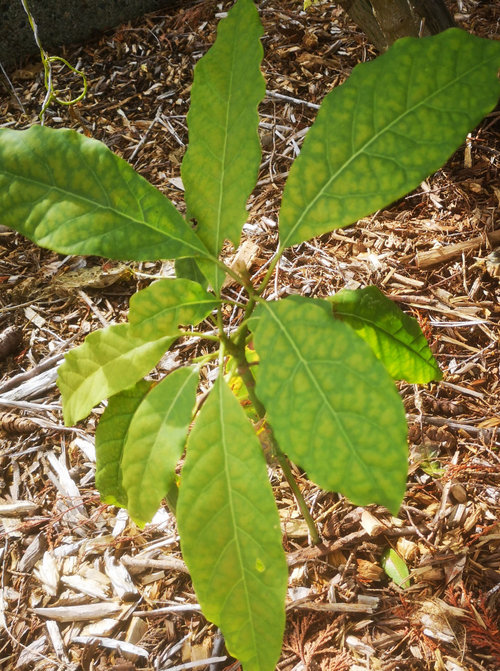 Last Spring I first planted Avocado seedlings Outdoors, in Vancouver, Canada
.
One tree died instantly in late October when it got down to -3°C (26°F). The other 2 trees survived until early February when it reached -7°C ( 18°F). Fortunately, I had piled wood chips HIGH (about 8 inches deep) around the bases of all 3 trees, and the lower trunks of all 3 trees were still green and ALIVE when I exposed them this week. One of them is already sprouting new buds to replace the dead top.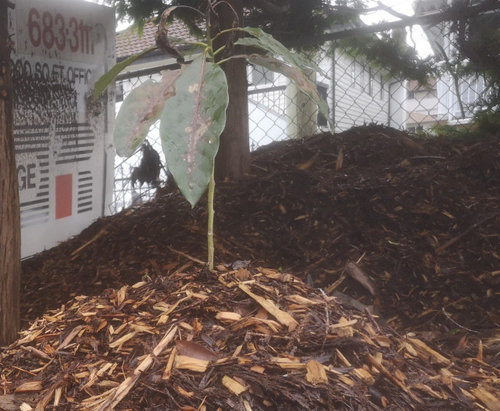 8 inches of Wood Chips help insulate the Avocado tree trunk, and the roots, if it gets too cold.
The most exciting thing that happened recently was that a friend of mine in Burnaby (British Columbia, Canada) confessed to me that he has been growing TWO AVOCADO TREES in his back yard for 3 years--BY ACCIDENT--outdoors and without any protection at all from the weather! He and his father eat lots of Avocados. They toss their Avocado seeds into the compost in the backyard. Some of them sprout, and most of them die in the winter. But two trees have survived the past 3 winters! It has reached -8°C (18°F) on at least 2 or 3 occasions in the past 3 years.
So,
my friend's accident has provided a viable strategy
for anybody who wants to grow their own Avocado tree--OUTDOORS--in Vancouver, BC. It consists of 4 "steps:"

1. It's really simple. Even a 10-year old child could succeed at this. And the cost is virtually nothing.

2. Just
plant a lot of Avocado seeds
.
Many will sprout
.
Most will die
in their first Winter. But 2% to 10% of them will be cold-hardy enough to survive the Vancouver, CANADA winter.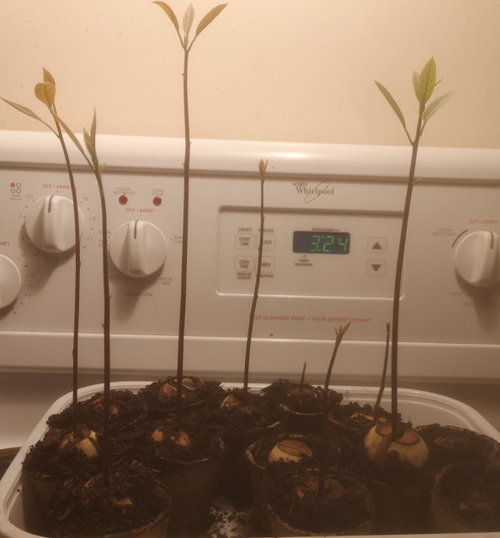 You can easily grow 10-15 Avocado seedlings in small peat pots and a plastic
container, and transplant them outdoors when the weather is appropriate.

3. It's just a "numbers game." Each seed is genetically different from all other Avocado seeds. Some are wired to be more cold-tolerant than others. So, if you plant
many
seeds, you'll get
a few
that will naturally survive the cold weather that we have around here (There are a few rare Avocado trees that can survive a winter low of -10°C and still produce a crop of fruit the following Summer).

4. You're already eating enough Avocados each year to get your own Cold-hardy Avocado tree… Stop wasting your seeds — PLANT THEM!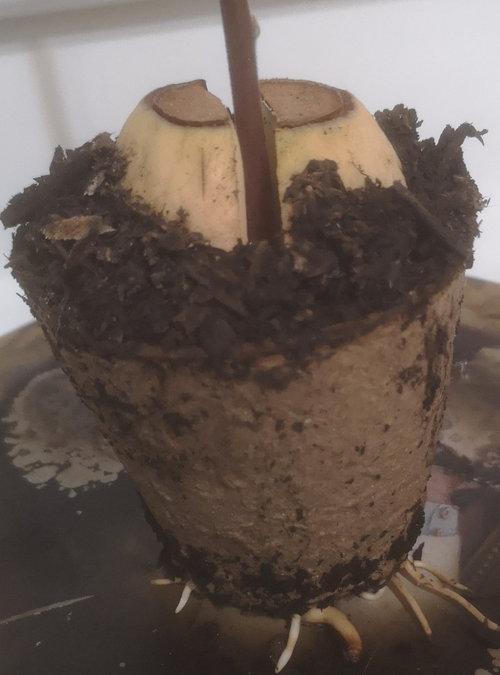 Close-up of an Avocado seedling in a small "dollar-store" peat pot. Notice that the roots
are already growing out of the bottom. This one is ready to stick into the ground, as-is!
I have posted a step-by-step article on
Medium.com
that explains how this can be done.
[click the link below if you want to read the entire article]
How To Grow A Cold-Hardy Avocado Tree--OUTDOORS--In Vancouver, Canada
I hope this helps inspire anyone else who wants to grow their own Avocado tree in West Coast Canada, or any other cooler area.