Hummingbird Cake Banana Bread
This
Hummingbird Cake Banana Bread
is a delicious version of the classic
banana bread
with a Southern flair. Of course, you'll have to serve it with a drizzle of cream cheese glaze to complete the package.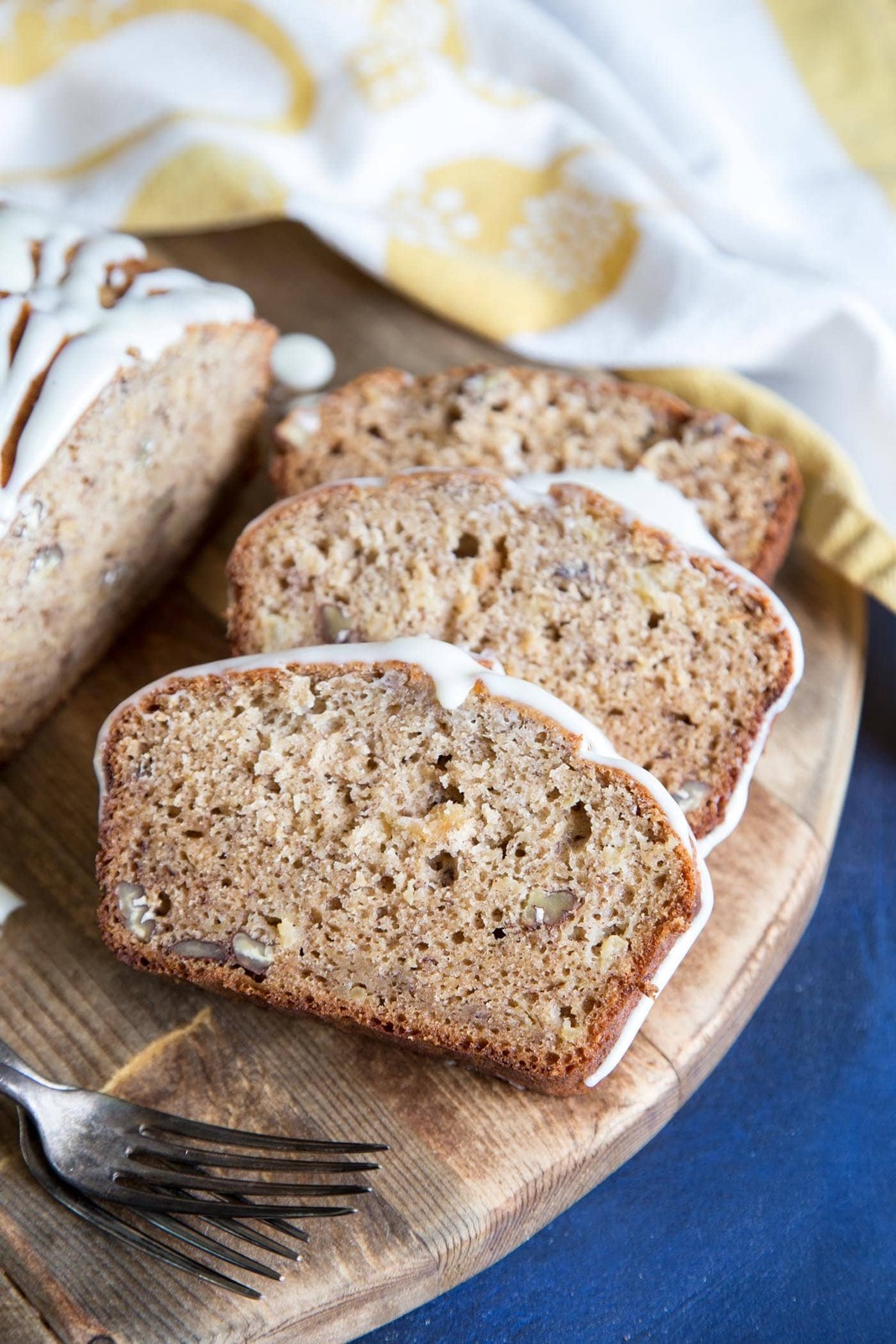 A loaf of
classic banana bread
is so familiar and comforting. You can eat it for breakfast or dessert, you can eat it when you're happy or sad. Best of all, it's so easy to make and a great way to use up those last two leftover bananas.
But hey, why stop there, take your banana bread to the next level with this version of the Hummingbird Cake Banana Bread. It's pretty much like a
Hummingbird Cake
without all the fancy layers and frosting and piping. It's a much shorter time from oven to mouth!
How to make Hummingbird Cake Banana Bread
Ingredients for hummingbird cake banana bread
Just like a classic hummingbird cake, this banana bread batter contains all the quintessential ingredients:
Bananas – make sure to use overripe banana for the best flavor.
Pineapple – I use crushed pineapple from the can. Lightly strain the liquid but don't press it all out to leave in the flavor.
Eggs – used as a binder.
Vanilla – always add vanilla to enhance any baked goods flavor.
Brown sugar – to sweeten. Dark or light brown sugar will work, you can also use granulated sugar if you don't have brown sugar on hand.
Oil – to keep the banana bread moist. Olive oil, vegetable oil, or canola oil will work just fine.
Flour – good old all-purpose flour will work here.
Leavening agents – baking soda and baking powder.
Salt – just like vanilla, salt is an important ingredient to enhance flavor in any recipe.
Spices – I used a mixture of cinnamon, nutmeg, cloves, and cardamom.
Pecans – toast the pecans to bring out their sweet flavor. If you're not a big fan of pecans or don't have them on hand, use walnuts instead. Or omit them if you prefer.
Making the banana bread batter
Mash the banana with a potato masher in a large mixing bowl. Add crushed pineapple, eggs, vanilla, brown sugar, oil, and beat until combined.
Sift together flour, baking soda, baking powder, and spices. Stir in the salt and chopped pecans. Fold the dry ingredient mixture into the wet ingredient mixture.
Transfer the batter to a buttered loaf pan and bake for 55 – 60 minutes at 350°F.
Allow the banana bread to cool inside the pan for 10 – 15 minutes before removing it to a wire rack to cool further.
Cream Cheese Frosting
Hummingbird cake is typically paired with the classic
Cream Cheese Frosting
. You can certainly go all out and make a batch of frosting for this banana bread. I took a shortcut and make a 2-ingredient quick glaze.
Microwave 3 oz of cream cheese for 30 seconds to soften it.
Whisk in 6 tablespoons of powdered sugar for a tangy sweet glaze.
Drizzle over warm banana bread and serve right away.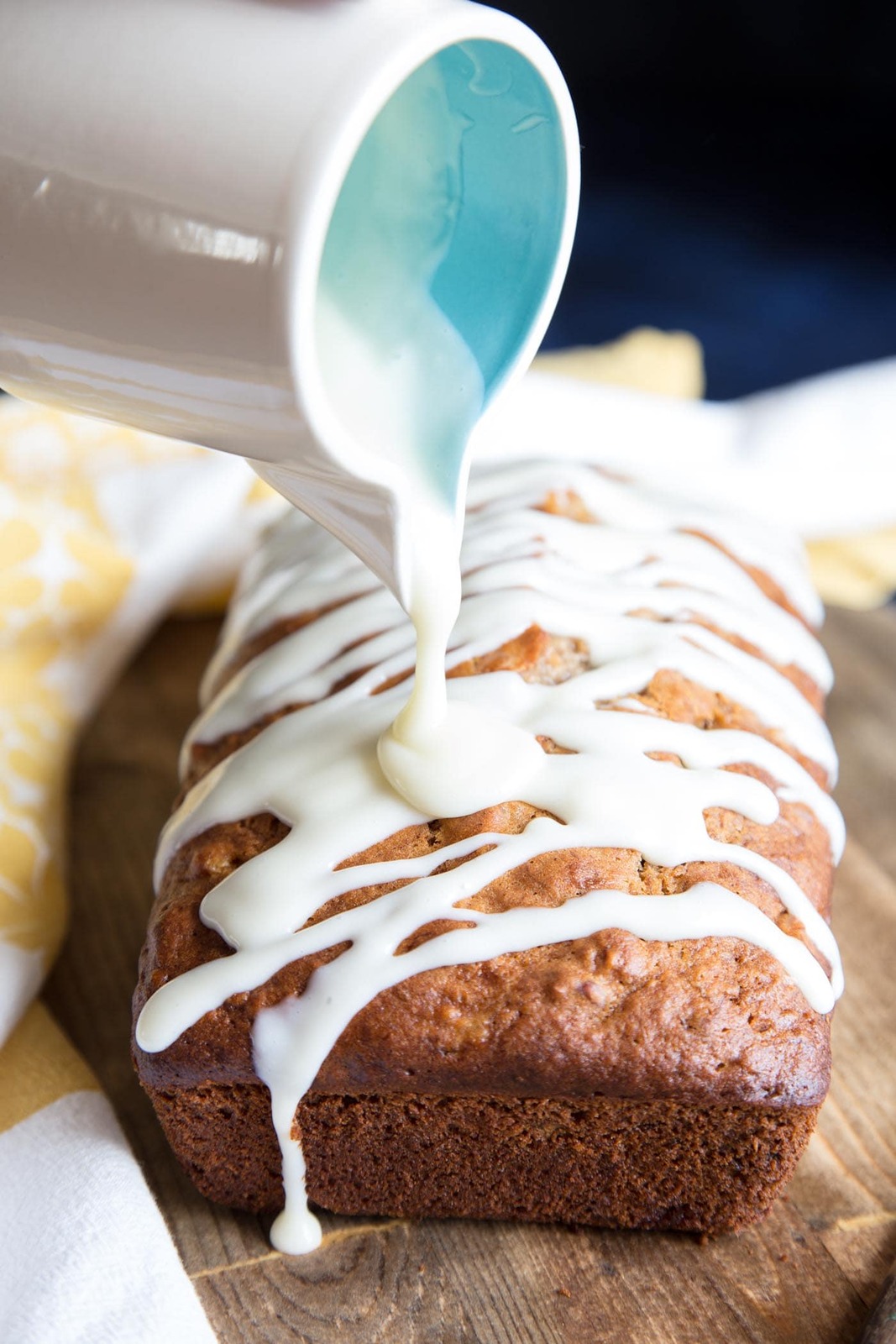 Banana Bread Tips
I like to line the loaf pan with a piece of long parchment paper, leaving the excess to hang over the sides, then brush the parchment paper with melted butter. The paper will help you lift the bread out of the pan very easily without having to flip it over, optional but I highly recommend it.
Letting the banana bread rest in the pan before removing it too cool on a wire rack will allow for carryover cooking and ensuring the bread structure is set before moving it.
How to serve Hummingbird Cake Banana Bread
Banana bread is best served warm. I especially love them for breakfast with a
latte
for me and a
dreamy hot chocolate
for the kids.
How to store leftovers
If you have any leftovers, they will keep for 2 – 3 days at room temperature. Longer than that, keep them refrigerated. I doubt you will have that much leftover, but if you do, I highly recommend making
banana bread french toast
!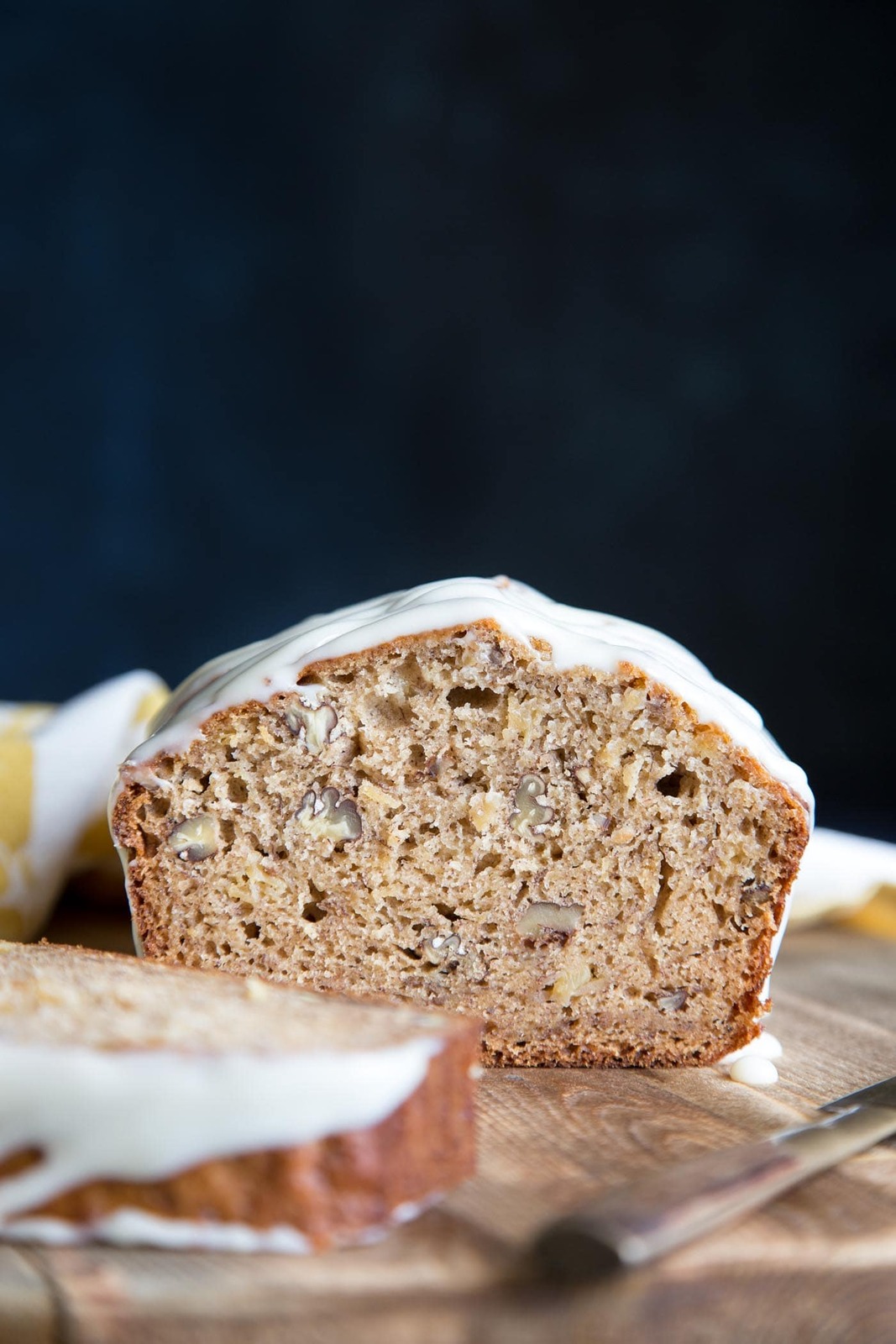 More unique banana bread
If you make this recipe, we'd love to see a photo. Tag us on Instagram
@wildwildwhisk
and
@ohsweetbasil
. Happy baking!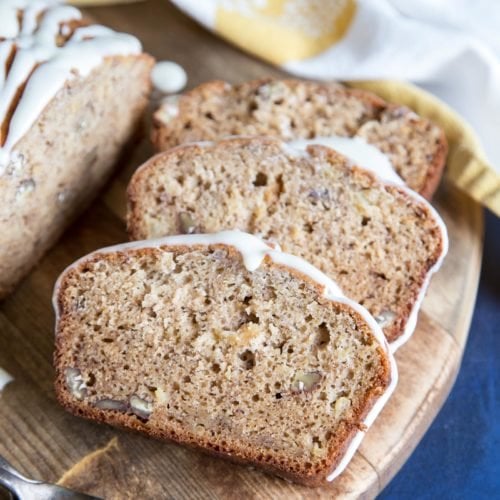 Print
Hummingbird Cake Banana Bread
This Hummingbird Cake Banana Bread is a delicious version of the classic banana bread with a Southern flair. Of course, you'll have to serve it with a drizzle of cream cheese glaze to complete the package.
Course 500+ Best Dessert Recipes, Yeast Bread Recipes and Quick Bread Recipes
Cuisine American
Keyword banana bread
Prep Time 15 minutes
Cook Time 1 hour
Total Time 1 hour 15 minutes
Servings 8
Calories 415kcal
Ingredients
Banana Bread
1 ¾ cup all-purpose flour
1 teaspoon baking powder
½ teaspoon baking soda
½ teaspoon kosher salt
¾ teaspoon cinnamon
A pinch of nutmeg
A pinch of clove
A pinch of cardamom
½ cup pecans toasted and chopped
1 cup mashed banana about 2 medium bananas
½ cup crushed pineapple strained
¾ cup brown sugar light or dark brown
2 large eggs
⅓ cup oil vegetable, canola or olive oil
1 teaspoon pure vanilla extract
Melted butter for pan
Cream Cheese Glaze
3 oz cream cheese
6 tablespoon powdered sugar
Instructions
Toast the pecans in a skillet over medium heat for 3 - 5 minutes until toasty and fragrant. Spread on a cutting board to cool slightly before chopping into smaller pieces. Set aside.
Preheat the oven to 350°F.
Brush a loaf pan with some melted butter and line the bottom with a piece of parchment paper, letting the excess hang over the sides. Brush the parchment paper with more butter. Set aside.
In a large mixing bowl, mash the banana. Add pineapple, sugar, eggs, oil, vanilla extract, and beat until combined.
In a smaller mixing bowl, sift together flour, baking powder, baking soda, and the spices. Then stir in the salt and chopped pecans until evenly distributed. Add the flour mixture to the liquid mixture and fold until the batter forms.
Transfer the banana bread batter to the prepared loaf pan and bake for about 55 - 60 minutes until a toothpick inserted into the middle comes out clean with just a few crumbs attached.
Allow the bread to cool on in the pan for 10 - 15 minutes before removing it from the pan and allow to cool further on a wire rack. Best served slightly warm.
To make the glaze, microwave the cream cheese for 30 seconds until softened, whisk in the powdered sugar until smooth. Drizzle glaze over the slightly cooled banana bread and serve.
Nutrition
Calories:
415kcal
| Carbohydrates:
58g
| Protein:
6g
| Fat:
19g
| Saturated Fat:
4g
| Cholesterol:
53mg
| Sodium:
271mg
| Potassium:
281mg
| Fiber:
2g
| Sugar:
32g
| Vitamin A:
228IU
| Vitamin C:
4mg
| Calcium:
69mg
| Iron:
2mg
​
READ:
Hummingbird Cake Banana Bread
Continue reading...