May 19, 2020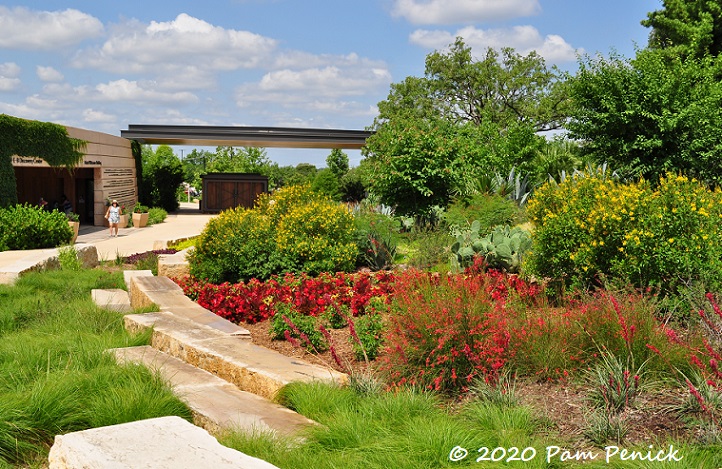 After a month and a half self-isolating at home, I was craving a garden visit when I got the news that both the Lady Bird Johnson Wildflower Center and
San Antonio Botanical Garden
were opening back up at limited capacity. I immediately went online and secured tickets for the Wildflower Center (
click for my recent visit
) and SABG, which is honoring reciprocal memberships with other botanical gardens, so I got in for free. Yippee!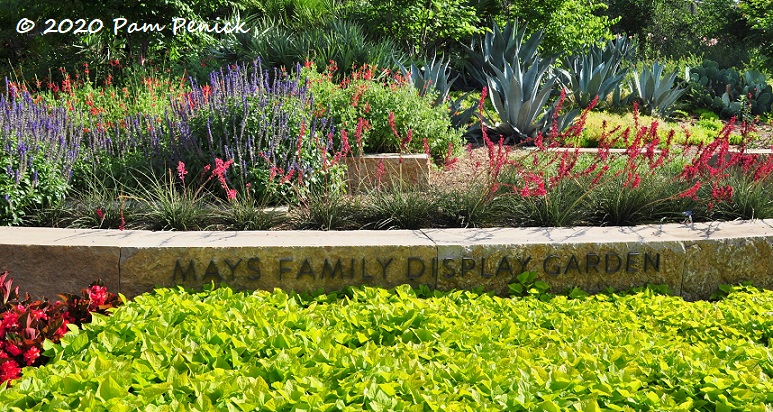 It's only a 1-1/2-hour drive from my house in northwest Austin to San Antonio Botanical Garden, an easy drive that requires no stopping at a public restroom along the way — ha! So last week my Italian exchange student (yes, she's still here for a couple more weeks) and I hit the road and headed south to the Alamo City for a little garden therapy.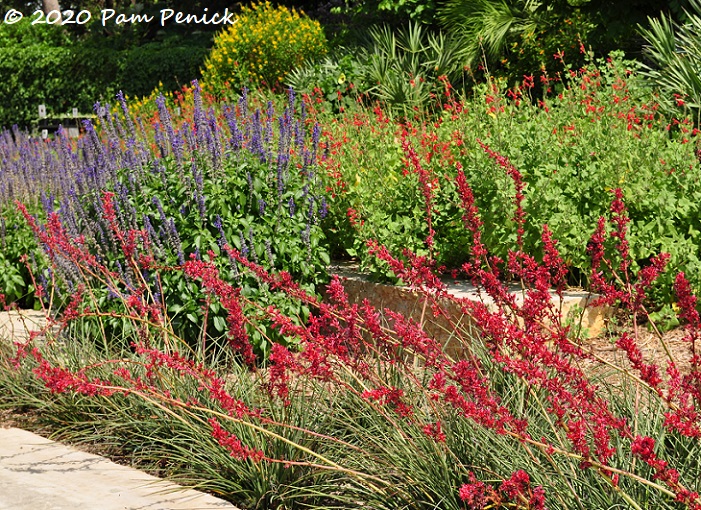 SABG marks its 40th anniversary this month, and the gardens are looking lovely.
And
summery, with a red-hot color scheme near the entrance slightly tempered by blue salvia.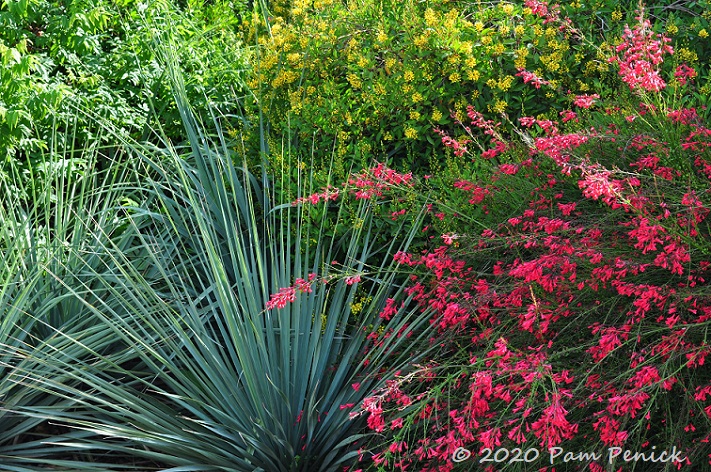 Cool-red firecracker fern with blue nolina (I think) and golden thryallis — shazam!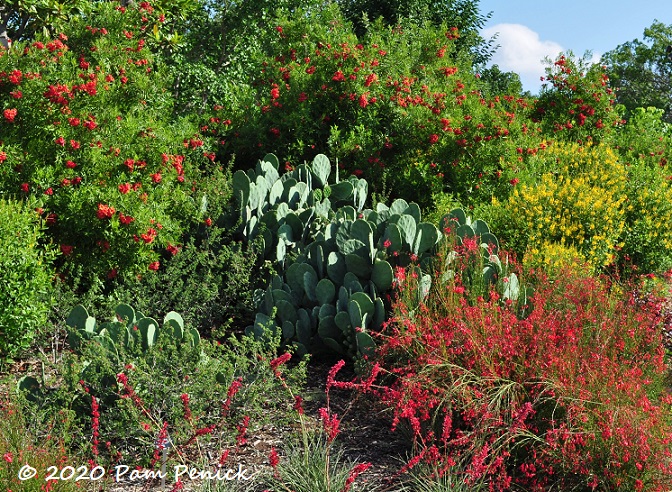 'Bells of Fire' esperanza hulks over Mickey Mouse-eared spineless prickly pear, firecracker fern, and 'Brakelights' hesperaloe.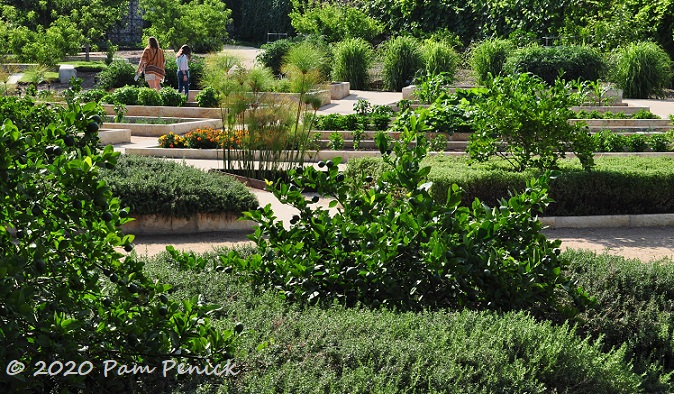 Across the path the culinary garden beckoned, so we popped in for a look around…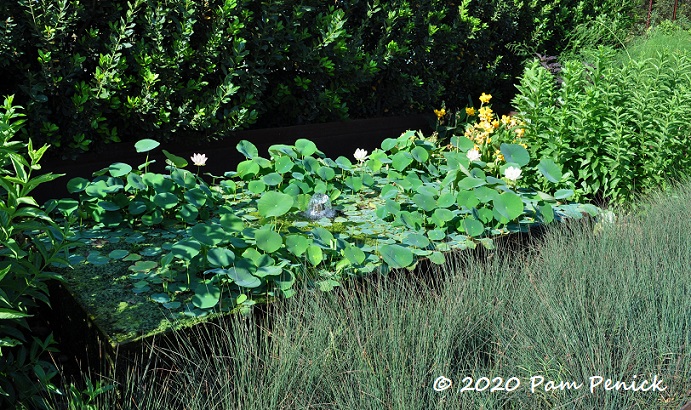 …and got sidetracked by this pretty, steel-sided lotus pond.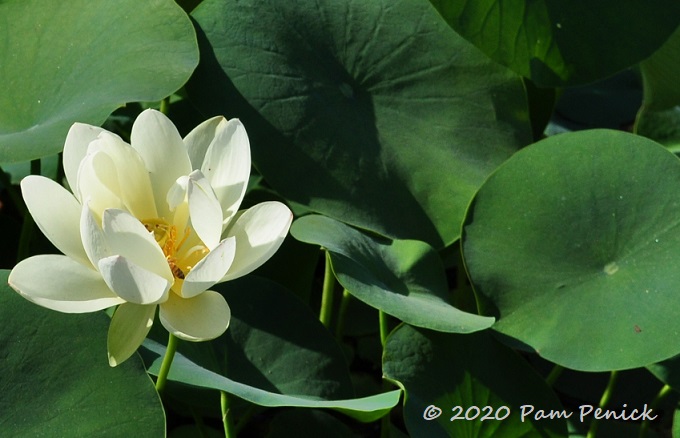 Ivory lotus flowers and matte-textured leaves — beautiful.
Heading over to the Family Adventure Garden we stopped to admire this limestone block wall planted with more red-flowering plants, including cigar plant cuphea and firecracker fern.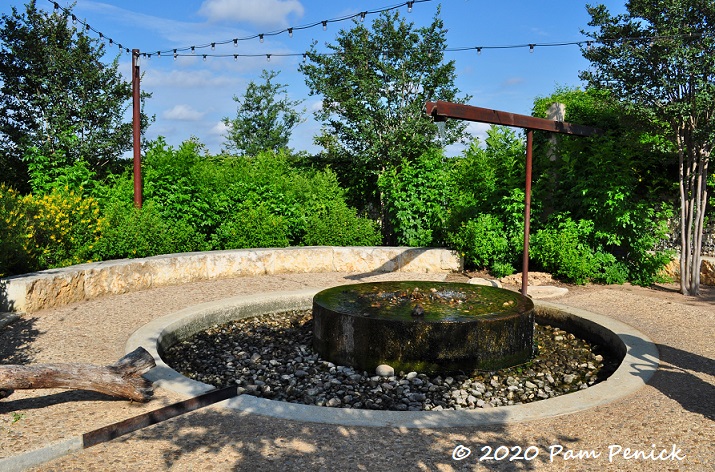 I love a circular water feature, and this one is pretty awesome, with circles radiating outward like ripples on a pond. The L-shaped steel sluice fountain drips a steady trickle into the pond, and string lights overhead promise fun evenings for the lucky few who get to visit after dark.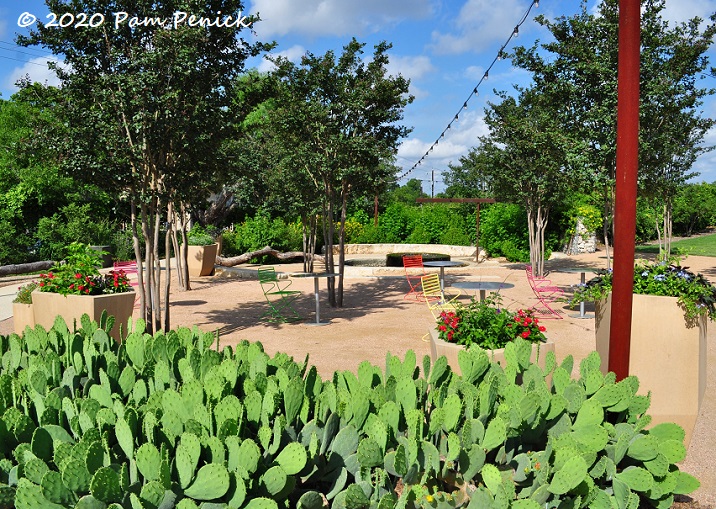 A wider view of this inviting hangout/event space, with the water feature in the background and a bosque of crape myrtles to shade colorful patio seating.
Sadly, No Name Creek, an interactive water feature for kids to play in, was turned off for safety's sake, so I didn't take any photos of that area. (You can see it in a previous post about
SABG's family garden
.) Other parts of the garden were taped off too, like the sand pits and water fountains. But this tunnel was open.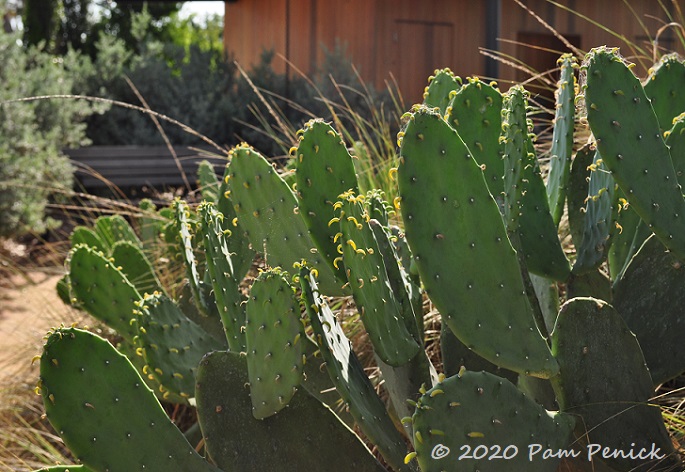 Prickly pear grows on top, reaching for the sun.
The muhly maze is quiet in spring without autumn's spectacular pink flowering of Gulf muhly grasses. But thanks to tidy mounds of dwarf yaupon holly, it's still serene and green.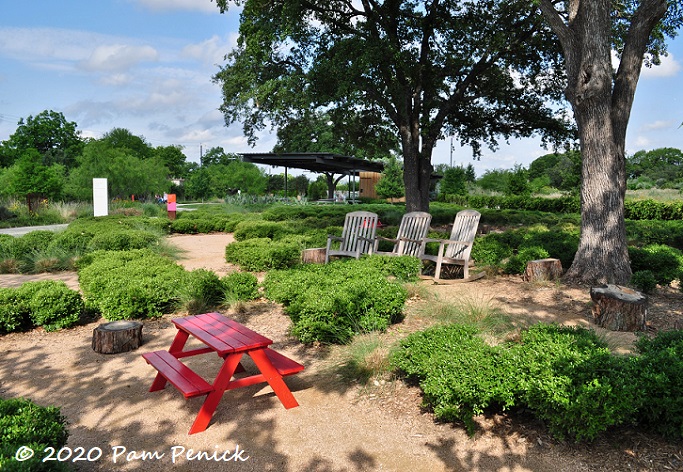 I like the wooden rockers, stump seats, and child-sized red picnic bench.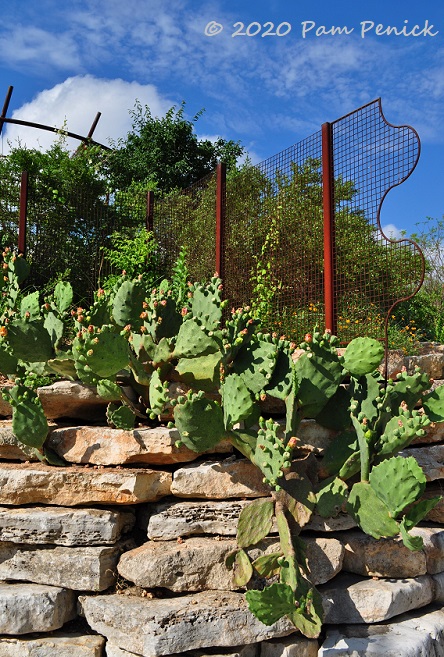 Climbing the stairs up to Prickly Pear Peak, we passed this flowerbud-studded prickly pear languidly leaning over a rocky ledge. Check out that wavy, steel-mesh fence too. Nice!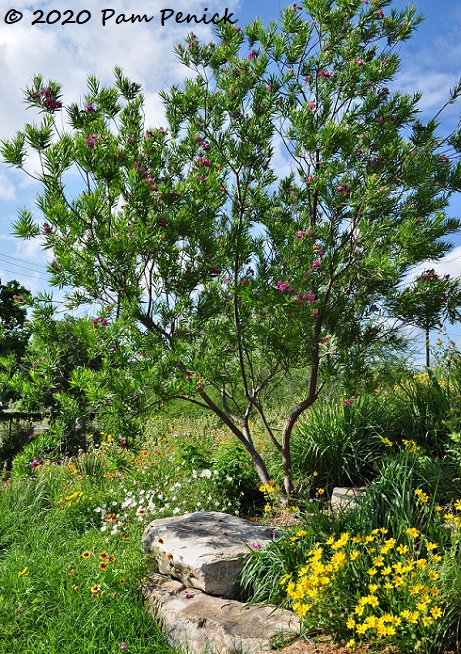 Desert willow in bloom on the hillside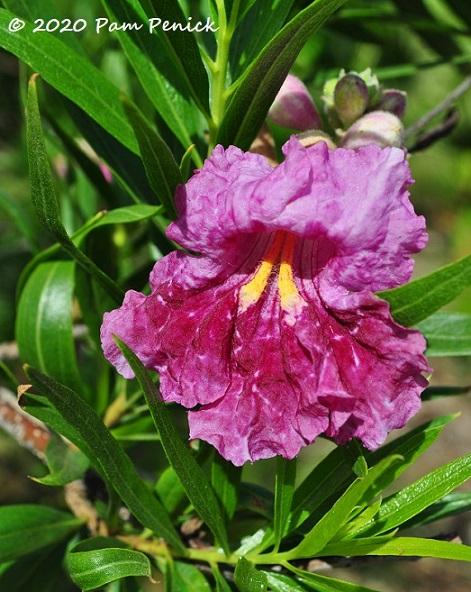 Crepey desert willow flower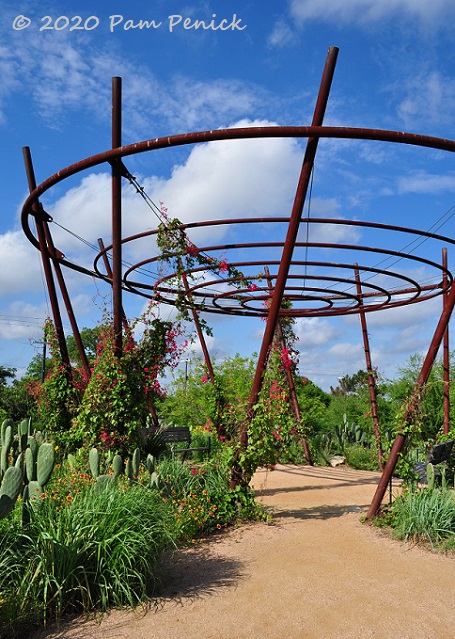 At the top, a tornado-like steel arbor seems to whirl under a blue sky.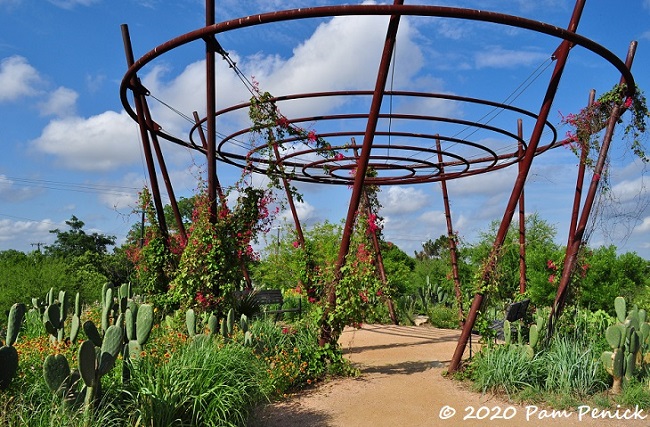 Hot-pink-flowered queen's wreath vine scrambles up the angled poles.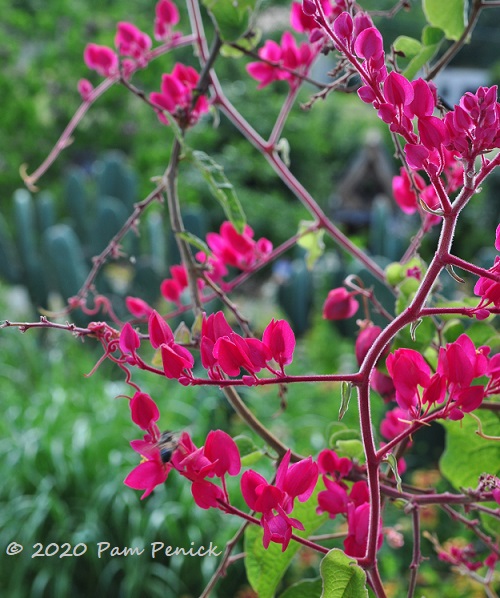 Queen's wreath, also known as coral vine for some reason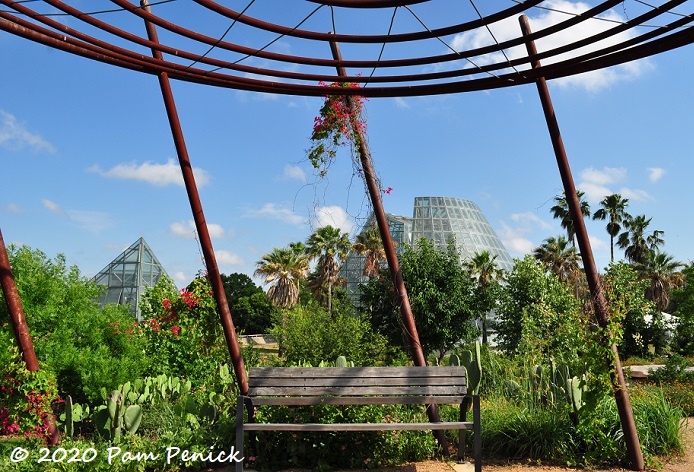 Under the arbor the tropical glasshouses are visible in the distance.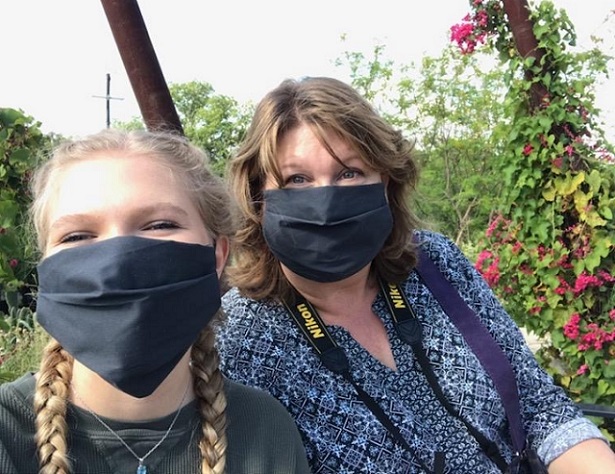 And here we sit in our masks, looking like garden bandits.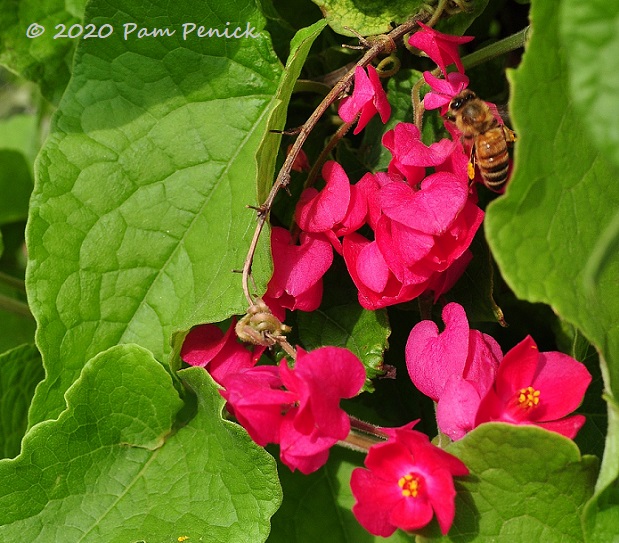 Honeybee enjoying a little queen's wreath goodness
These prickly pears are so sculptural. Expert pruning or natural growth pattern? Inquiring minds want to know. Also, they look beautiful amid the firewheel, a native Texas wildflower.
I've always liked this grassy amphitheater/play space, with limestone block seats embedded at angles in the ground.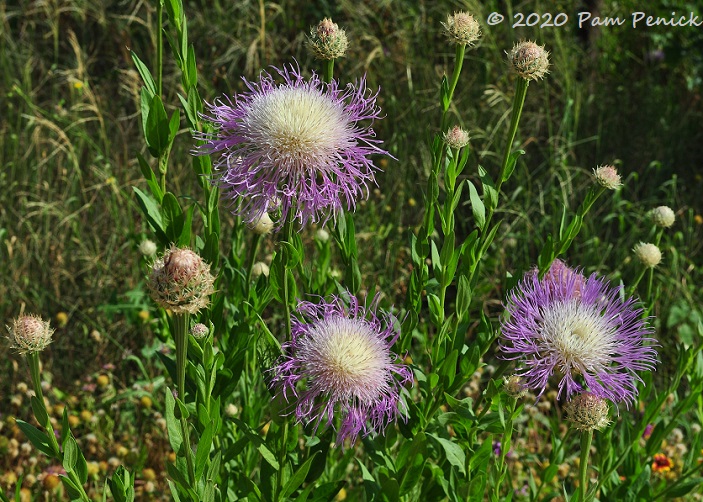 American basket flower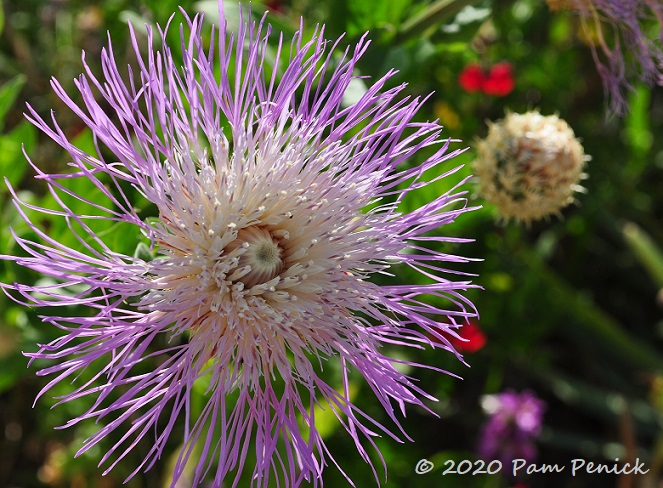 A closeup view
As one of SABG's angular glasshouses comes into view, I'll stop here and will pick up with part 2 of my visit tomorrow. Stay tuned for an explosion of Dr. Seussian
Yucca rostrata
in bloom.
I welcome your comments; please scroll to the end of this post to leave one. If you're reading this in a subscription email, click here to visit Digging and find the comment box at the end of each post.
_______________________
Digging Deeper: News and Upcoming Events
Join the mailing list for Garden Spark!
Hungry to learn about garden design from the experts? I'm hosting a series of talks by inspiring garden designers, landscape architects, and authors a few times a year. Held in Austin, the talks are limited-attendance events that sell out quickly, so join the Garden Spark email list to be notified in advance. Simply
click this link and ask to be added
.
All material © 2020 by Pam Penick for Digging. Unauthorized reproduction prohibited.
The post
San Antonio Botanical Garden reopening, part 1
appeared first on
Digging
.

Continue reading...