I have a shrub growing in SoCal desert region right by the street. These suckers get 15-20 feet high, this growth is just in the past year. I would like to plant it several feet back, away from the street.
(1) How much root structure do I need to dig up (and transplant with the tree)? How many feet of roots? The plant that you see in the pic is, say, 5-6 feet across.
(2) What sort of soil amend would you recommend that I mix in with the desert soil? The spot where I'll plant it gets sun almost most of the day, almost every day of the year, but nothing else grows there. Should I mix in some garden soil, potting soil, or what?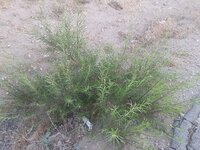 Last edited: