May 07, 2020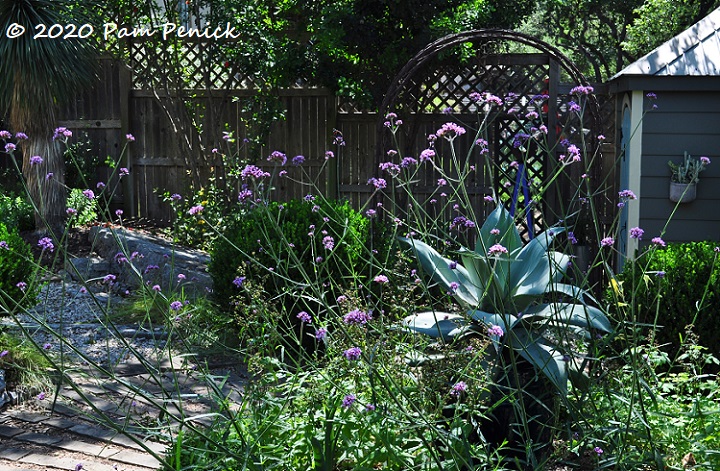 It turns out a 6-foot-tall stand of
Verbena bonariensis
is all you need to dispel traces of coronafunk. For years I've grown tall verbena in a halfhearted, one-plant-in-part-shade way. Not bad. But now — shazam! — a mass of it in the Circle Garden delights me whenever I step outside.
I didn't expect it to get
so
tall and rambly. When
I pulled out the stock-tank pond
a few months ago, I chose a mix of native and adapted pollinator plants to encircle a potted whale's tongue agave in the center of the new planting bed. Turquoise and purple, my favorite summer combo.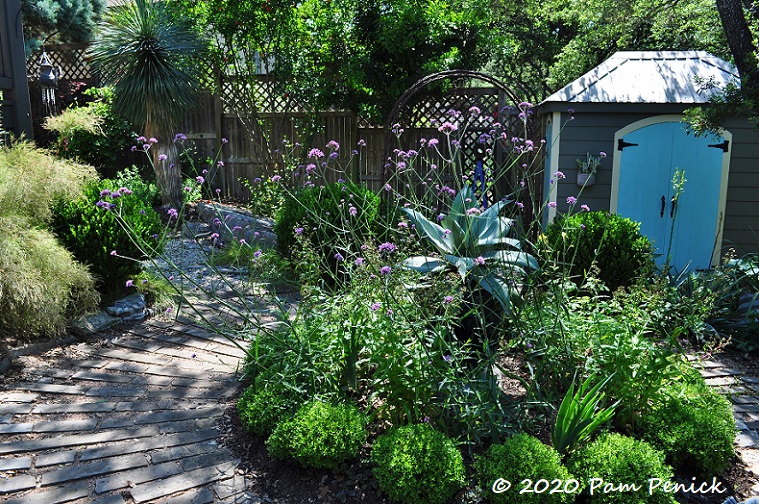 The verbena soared skyward, though with a pronounced lean to the left, where there's more sun. Now it towers over the focal-point agave, creating a flowery scrim. I kind of love it, even though it tests my tidying instincts. The small round shrubs around the perimeter of the circle are 'Micron' hollies.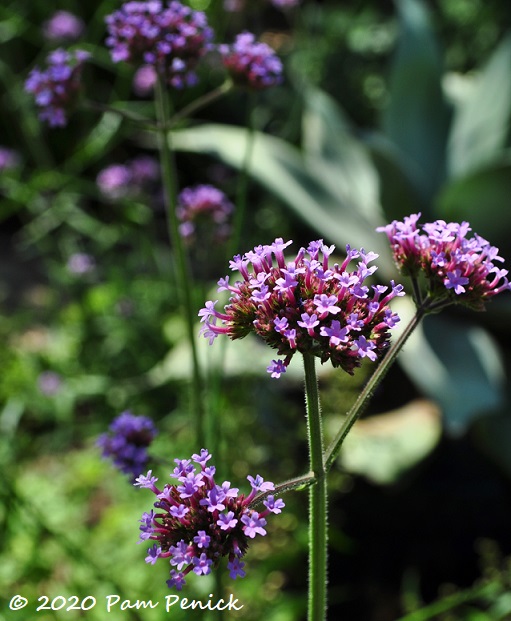 The verbena is a butterfly magnet. I've observed monarchs, red admirals, skippers, and swallowtails this spring.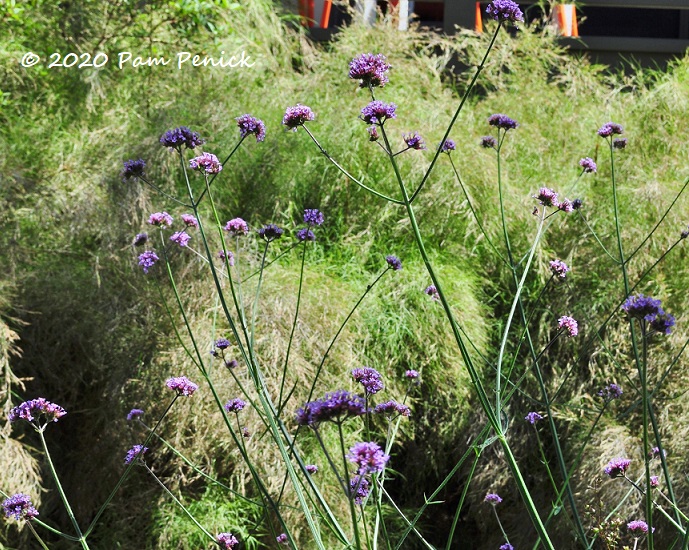 It looks beautiful against the cloud-like, chartreuse foliage (with straw-colored inflorescence) of bamboo muhly grass.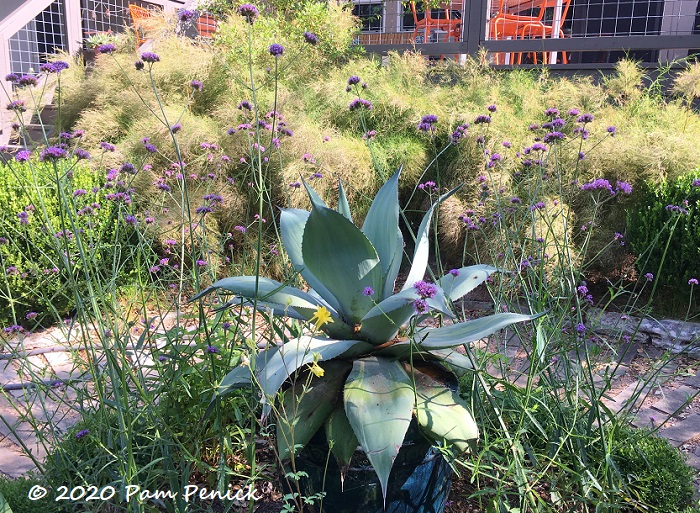 A few yellow columbines still bloom on the shady side of the circle, but I think I will pull those out when they're done. I want only purple or pink flowers here, I think, and the yellow is distracting. I have a few 'Fireworks' gomphrena coming up now, and a purple coneflower or two. I'm sure I'll be adding more and tweaking this bed for seasons to come. And what's more fun than that — a new place to experiment!
I welcome your comments; please scroll to the end of this post to leave one. If you're reading this in a subscription email, click here to visit Digging and find the comment box at the end of each post.
_______________________
Digging Deeper: News and Upcoming Events
Take a virtual garden tour
May 1 through 31! From the comfort of your home, stroll through lovely, quirky gardens and meet the amazing gardeners who created them. This is a month-long, online version of the annual Cooper-Young Garden Walk in Memphis, Tennessee, a self-guided tour of private gardens and businesses highlighting urban gardening throughout the historic Cooper-Young neighborhood.
Join the mailing list for Garden Spark!
Hungry to learn about garden design from the experts? I'm hosting a series of talks by inspiring garden designers, landscape architects, and authors a few times a year. Held in Austin, the talks are limited-attendance events that sell out quickly, so join the Garden Spark email list to be notified in advance. Simply
click this link and ask to be added
.
All material © 2020 by Pam Penick for Digging. Unauthorized reproduction prohibited.
The post
Verbena explosion
appeared first on
Digging
.
Continue reading...