Weird word...I was taught to spell it with an "N", which spell-check does NOT like, so I googled and there is boatload of discussion about the proper spelling. Who knew?
Oh well, back to the issue at hand...one half of my Kwanzan Cherry is dead. The other half appears healthy. I sure hate to dig up anything that has life left in it but no point in prolonging the agony if the healthy half of this tree is not able to sustain itself over time. What do you guys think? Hope the attachments work!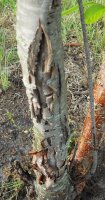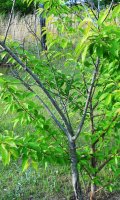 Not sure if the trunk damage is man made or due to some biological cause.