Mom wanted a replacement for a wooden planter that's been at the ned of her patio for about 6 or 7 years. I got it when there was an autumn flower show in Columbia at the Farmer's Market. There was a man who was selling planters and other garden furniture made from distressed wood rejected at a lumber mill. The box I got had been made from a tree that had been hit by lightning.
Well, that was the only time those folks came to one of the flower shows, so getting another from them was right out. And Mom kept talking about how cedar lasted longer. I decided to take a stab at making one.
So, life and the Market Day at Historic Camden have been getting in the way, but luckily we decided to celebrate Mother's Day next weekend, because we were all pooped from a busy week. That gave me today to try and knock it together. I had every intention of taking pictures as I went, but kinda forgot once I started working.
Learned a lot about what not to do next time, but it's together, and if you don't look too close, it'll pass the muster. I was limited a bit by what cedar boards were available locally, 6 X 8 was the best I could do, but here it is.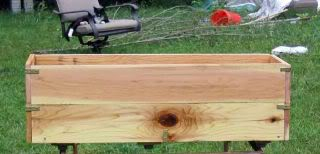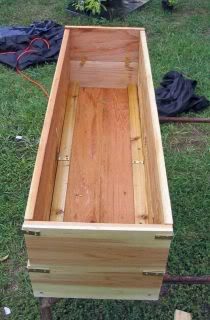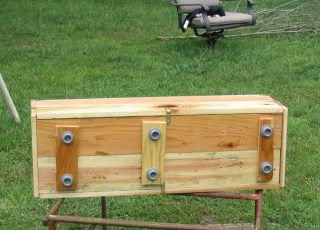 I lightly sealed the wood with a clear polyurethane for a little extra protection. The "feet" are a little off center, but I didn't think about the feet before I put the braces on. Next time, if there is a next time, I will probably also put the end pieces inside the long side pieces instead of the other way around.